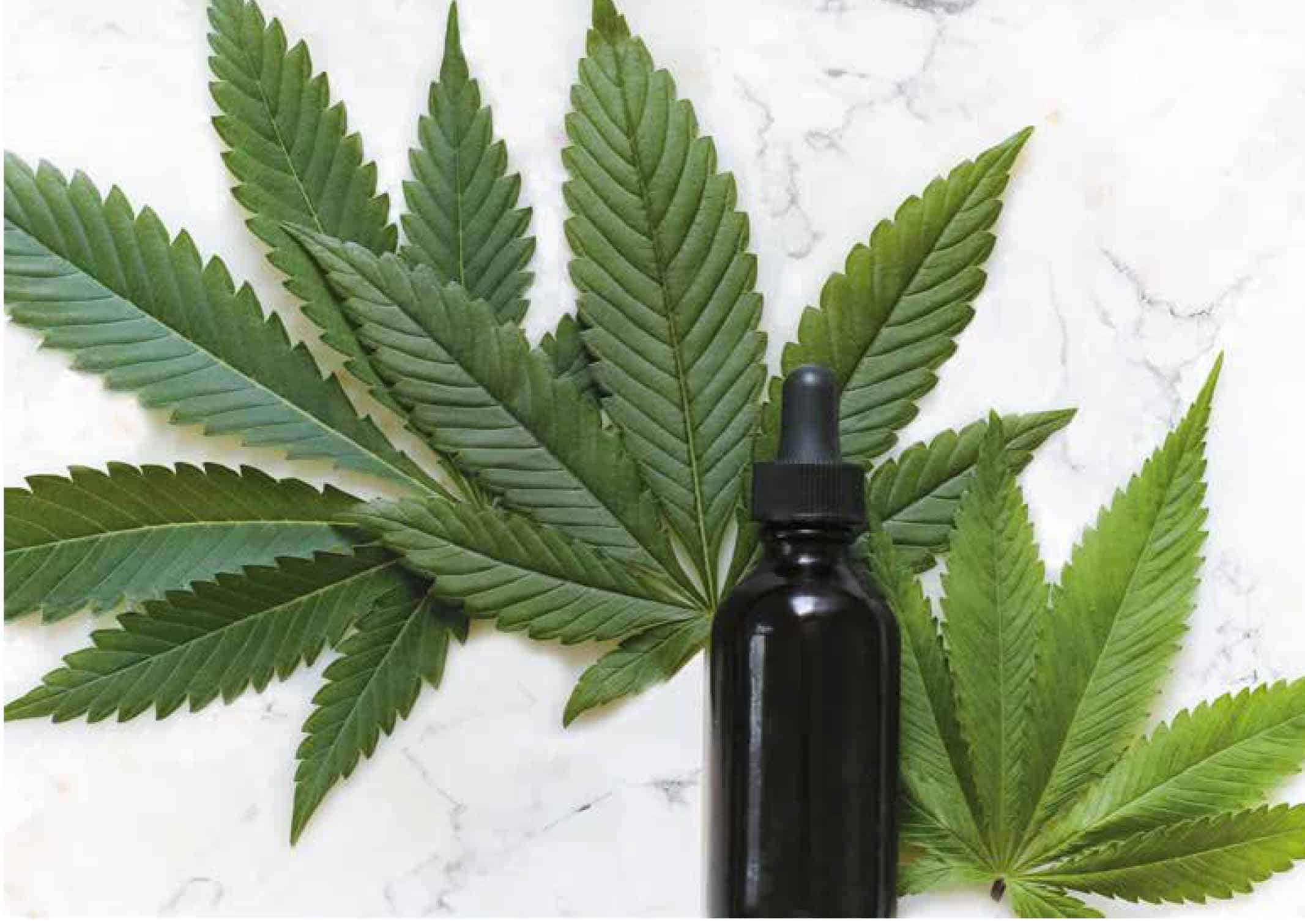 Shemesh Automation manufactures premium Cannabis and CBD Automated Packaging Machinery.
With over 30 years' experience, we engineer a complete range of individual and end-to-end systems that make your production faster, smarter and more cost effective.
HOW WE WORK: Cannabis and CBD Automated Packaging Machinery
Any high-quality packaging line needs top-notch machinery at its core. Shemesh Automation's range of core-line machinery offers innovation at every stage, and reliability you can count on. Shemesh manufactures premium filling and packaging machinery for both flexible and rigid packaging.
Our feature-rich products offer strict waste management, minimum downtime, safety, product protection, quality control, operational flexibility and long-term reliability. We do this all under one umbrella leveraging our innovative approach and engineering expertise.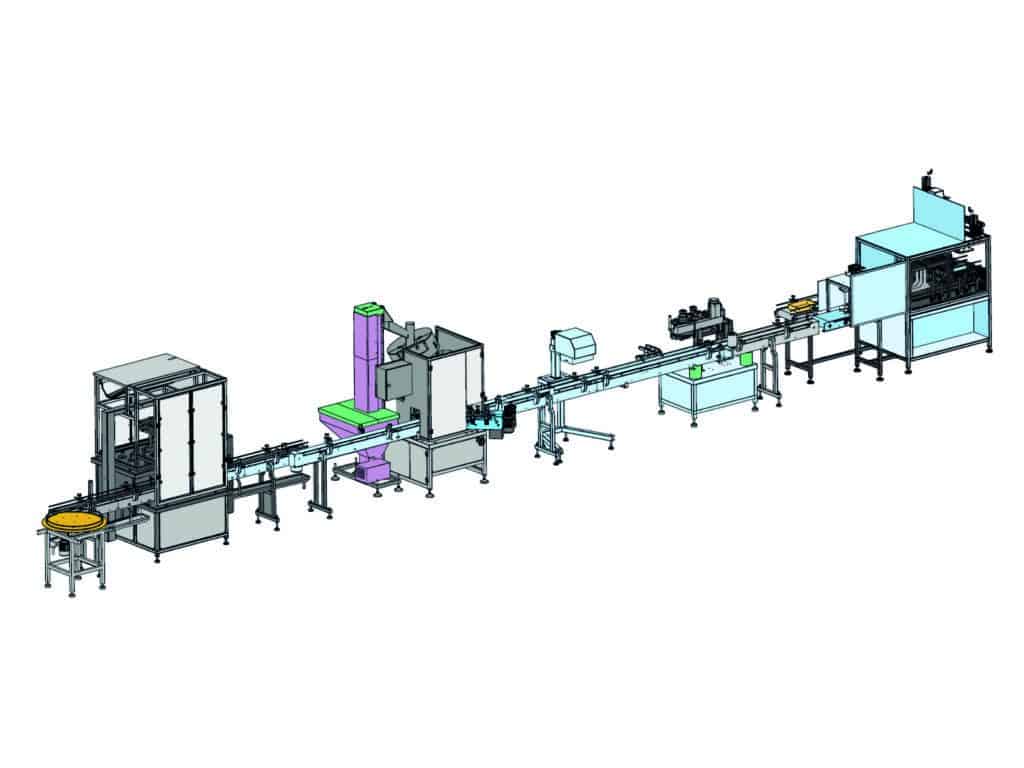 Our Range of premium Cannabis and CBD Automated Packaging Machinery
Our Cannabis automated packaging solutions include feeding machines, denesters, unscramblers, labellers, loading machines, filling machines, sealing, capping and labelling solutions, as well as case packers and palletisers, all tailored to the cannabis industry. We also have CBD Liquid Oil Filling Machines.
UNSCRAMBLERS
SA-CF120: Fully Synchronized CBD Containers Unscrambler
Existing models throughputs offered in 20-200 units per minute
Fully synchronised and fully automatic
EXANE: Automatic Inverting Air Rinser
Fully automatic
Variable speed conveyor & a sub-15-minute tool less changer over
Supports both oval and round containers
Suitable for plastic and glass containers
Speed: 7-8 containers per cycle and up to 60 containers per minute
Standard air filter with upgrades available
Throughput model range 20–200 ppm
FILLING SYSTEMS
STRATUM:  In-line Servo Driven Automatic CBD Liquid Oil Filling Machine
Positive displacement double servo driven piston & diving nozzle filler
Throughput available from 2 to 12 heads or 40-180ppm for up to 500ml liquid vol
Suitable for viscous and free flowing liquids
Applicable to containers of most common shapes and sizes
Throughput: 12-16 cycles per minute per filling station depending on liquid characteristics, for portioning of up to 500ml
Available as automatic or semi-automatic
FGW120: Positive Displacement Gear Pump Linear Automatic CBD Liquid Oil Filling Machine
Throughput model range 20-200ppm
Easily adjusted to fill various volumes with high range of viscosities
Under 20 minutes tool-less changeover time
Boasts proprietary screw-less shower head nozzles with no drip or overflow
Supporting oval, conical, round and rectangular canisters
SEALING SYSTEMS
SEALPRO: Fully automatic Laminate Cutting and Thermo Sealing Machine for CBD products
Fully automatic laminate cutting and thermo sealing machine with throughputs from 20-200ppm
Available in either in-line or monoblock configurations with fully programmable seal, seal-fill, or seal-fill-cap features
ENCORE: Induction Lid Sealer
Pre-cut laminate hermetic induction sealer
Seamlessly integrated to our product portfolio (mechanical, software, electrical)
CAPPING SYSTEMS
THORO: Screw/Twist Off/Ropp Capper For CBD products
Sanitary servo-driven cam design to provide super-accurate, leak-free capping
Available in both semi-automatic and fully automatic
60, 120 or 180ppm models available with either I, II or III capping stations
Wide variety of containers or bottles (eg plastic,glass etc)
Pick & Place method for accurate screw or twist-Off capping
Clipping method for accurate snap-on and/or push-pull capping
VALEXTRA: Advanced Snap-on Capper
Complete orientation available to ensure accurate lid vs container positioning
Speeds available in up to 200ppm
Lid hopper can contain up to 300ltr/4000 lids (80mm diameter size)
ALANTRA: Auto Air Pump and Trigger Nozzle Capper
Trigger and/or spray pump automatic feeding, orientation & capping
Semi-automatic (accommodates up to 2 operators) or fully-automatic (for hands-free operation) models available
Throughput: 60 containers/min or up to 120 containers/min (double station)
Sanitary design
Handles wide variety of containers, bottles and shapes (eg plastic, glass, round, square, cylindrical, conical, etc)
Pick & Place method for accurate capping
Digital, servo-driven adjustable torque for flexibility and precision
Universal proprietary gripper fits both spray and trigger caps. No tools, no downtime required
LABELLING SYSTEMS
LWA Labelling Series
LWA Front and Back labelling to flat panels or oval containers
LWA Wraparound labelling to cylindrical and conical containers
LWA Universal Labelling: Front and/or back application of labels to flat panels, ovals or cylindrical containers coupled with a wraparound labelling feature for cylindrical and/or conical containers as well as top and bottom labelling as required
AREVA: High End Labeller and Tray Filler for CBD Vials and Small Round Bottles
Offers front and back labelling, partial or full wraparound with orientation unit
Quick and easy changeover time
Fully hands-free labelling machine designed specifically for vials and small round bottles
Different model speeds offered from 20-200ppm
Full QC, printing and coding features available including a defects rejection unit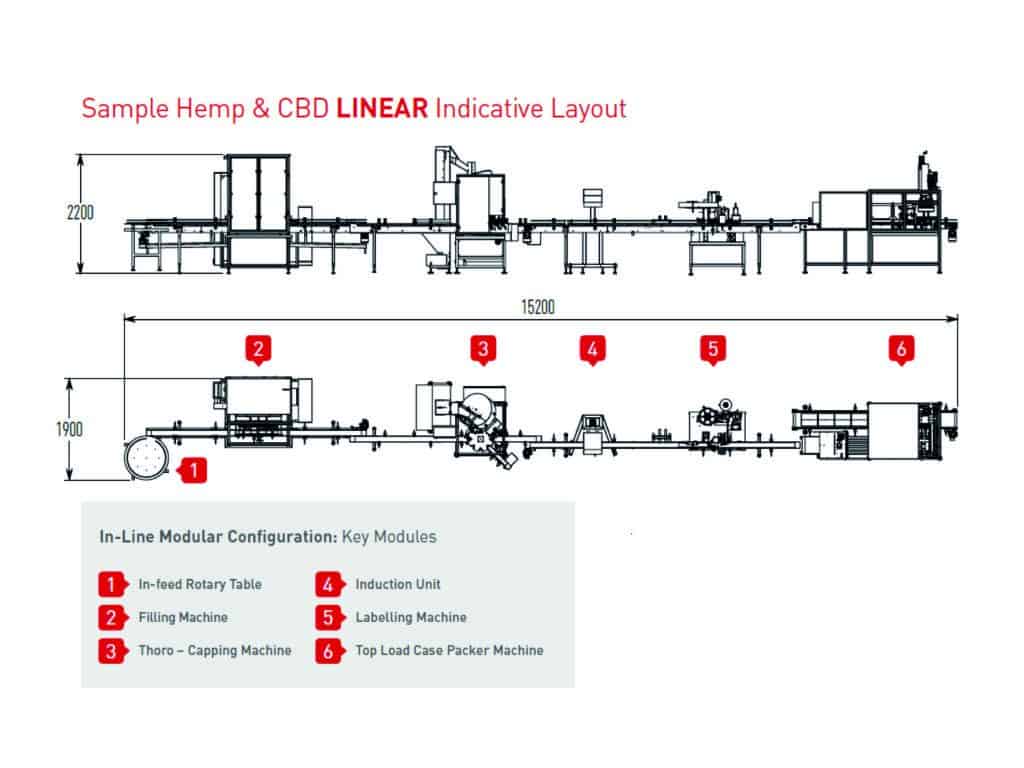 MONOBLOCK Cannabis and CBD Automated Packaging Machinery
SAMBAX SERIES: Auto Feed, Fill, Cap & Over-Cap with QC for Small & Extra Small Containers and Vials for CBD products
SAMBAX model for medium containers and vials ranging from 350ml to 5ltr
SAMBAX-Z model for small and extra small containers and vials ranging from 5ml to 350ml
Western European pharma-grade machine build standard
Fully automatic feed, fill, pick & place cap and over-cap with QC
Thermal or induction seal, caps or nozzles 'insertions' as well as labelling & coding available as an option
Models throughput range from 20ppm up to 100ppm
MULTI 1: Horizontal FFS with Integrated Stacker, Packer & Product Auto Feeder for the creation of flat sachets suitable as samples or product promotions
Servo-driven cam design
Fully automatic feed to form, fill, seal, cut, stack and carton pack sachets with complete QC
Coding and printing via an internally integrated, easily accessible Markem Imaje printer
Pre-cut perforation
Auto stacking and packing of sachets into boxes
CASE PACKERS AND CARTONS
RELENTLESS: End-of-Line Case Form, Fill and Seal
Throughput: up to 15 cases per minute (SILVERLINE) / up to 25 cases per
minute (SXS)
Ability to handle multiple product types and carton configurations. Servo motor driven container manipulator
Quick changeover time
Designed for minimum space requirements
Versatile configuration with an ability to use all or just part of the functions offered
No need to stop for magazine charging
MULTI HEAD WEIGHER – For Cannabis Flowers
Suitable for weighing customer's products where each piece size measures approx. 1"x1"x1"
Weight of the mixing can be automatically compensated by the last products
Affords high accuracy and tailored load cell
Includes a high-speed stagger dump function and new Modular and
CAN bus technology
Highly efficient and stable outputs
STANDARD SPEC:
As with all Shemesh machines, all our Cannabis and CBD Automated Packaging Machines comes with the following standard spec:
Industry 4.0-ready
FESTO (Germany) pneumatics and servo systems
Complete SST304/316L design
FDA approved piping as applicable
SIEMENS (Germany) PLC, HMI and motors (ALAN BRADLEY optional)
BANNER sensors
E-stop buttons and safety interlocks wired through CAT IV safety controller
CE/UL Marking.