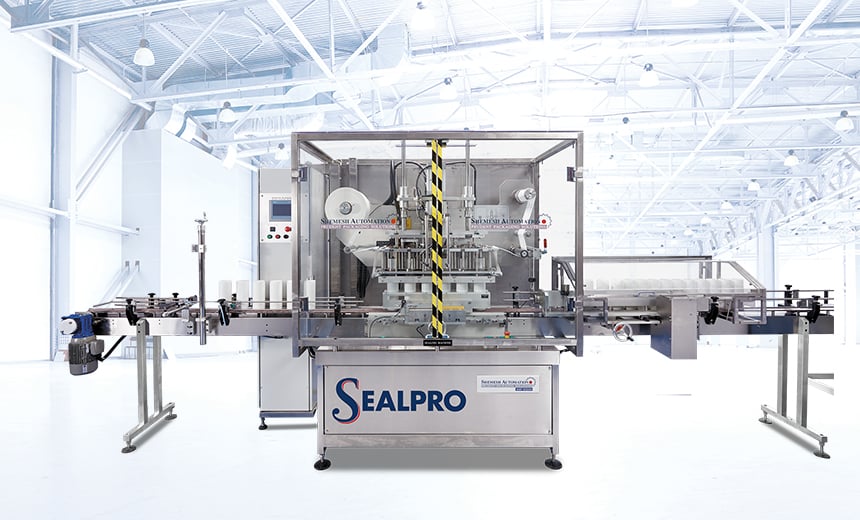 SA Sealpro Conduction Sealing Machine
SA Sealpro Conduction Sealing Machine is the world's most advanced fully automatic laminate cutting and conduction sealing machine.
Shemesh Automation offers a wide range of versatile and fully programmable seal, seal-fill, or seal-fill-cap machines in either in-line or monoblock configurations with throughputs in the 1,000-12,000 pph range.
The SEALPRO120 machine automatically cuts the sealing laminate according to your product size and conduction-seals it accurately in position. It offers 6 individually temperature controlled welding heads built inside one robust sealing block that deliver a consistent application of heat to ensure a perfect seal.
Sealers are offered as either as Cut & Seal solutions that cut and seal film from a reel or as Seal Only solutions using pre-cut lids.
Products can be formed cups (made of PS, PP, PET, APET CPET, aluminium and coupled cardboard), trays, bags or containers (made of plastic, glass and metal)
Solutions are available for sealing only or with vacuum/gas facilities to extend product shelf life
Build-in QC for YES/NO or Total vacuum seal options are also available.
Shemesh Automation's SA Sealpro Sealing Machine has already been sold to industry leading manufacturers in the nonwovens packaging, food and beverage packaging, chemicals packaging, health and beauty packaging and pharmaceuticals packaging sectors.
As with all machines in the Shemesh range, the SEALPRO series is Industry 4.0 ready as standard.
Benefits
Fully automatic
Throughput models offered: 60, 120 & 200 products per minute
INDUSTRY 4.0 READY: SECOMA SiteManager 1139 modem, integrated into the machine HMI to enable SMART remote support, live stats and performance analysis as well as manufacturer enhancement feedback.
Supporting oval, round, conic, squared and rectangular containers. Other options available.
Works with most PE-based and foil laminates existing in the industry.
Minimum foil waste, intra batches: 15mm-20mm, reducing waste!
Tolerance: margin 3-4mm, trim 10mm, reducing waste!
Sub 20 minutes changeover, reducing downtime!
Sanitary design for highest standards of production
Sealing strength tuning and fine-tuning per each sealing head may be done separately via the HMI
Explosion-Proof, Lid-Intrusion and 'Breathing Foil' upgrades available
Tension Control Unit
Built in Quality Control and Reject System
Screw feeders for slippage prevention
Over 80 machines sold