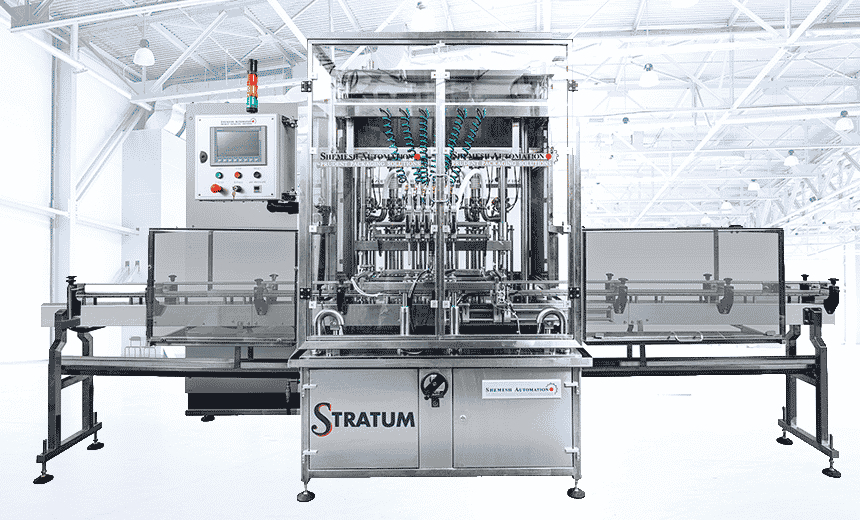 An Advanced In-Line Servo Driven Automatic Filling Machine For Viscous And Free Flowing Liquids.
Applicable to containers of most common shapes and sizes in the food & beverage, chemicals and cosmetics industries, STRATUM Automatic Liquid Filling Machine has servo driven piston technology at each filling station, therefore it significantly lowers utilities consumption and reduces costs while boosting portioning accuracy levels.
From water, peanut butter and ink, to pastes, creams and paints – the Shemesh Stratum Automatic Liquid Filling Machine is designed to fill a wide range of liquids and particulates with a wide spectrum of viscosity levels.
The STRATUM Automatic Liquid Filling Machine has already been sold to a number of world-class packaging companies and manufacturers including Beams Packaging Services and Macphie in the UK.
Benefits
Positive displacement double servo driven piston & diving nozzle filler
Throughput available from 2 to 12 heads or 40-180ppm for up to 500ml liquid vol.
INDUSTRY 4.0 READY: SECOMA Site Manager 1139 modem, integrated into the machine HMI to enable SMART remote support, live stats and performance analysis as well as manufacturer enhancement feedback
All welded to pharma sanitary standards using 316L stainless steel and constructed using USDA/FDA approved materials
Festo (Germany) Double Servo Liquid Filling technology both in the pistons and the diving nozzles for production consistency and a staggering +/-0.25% of liquid volume accuracy.
Viscosity applicable range from 1 to 500,000 Centipoise (water is at 1, peanut butter is at 250,000)
Portioning range from 100ml/gr-1200ml/gr. Higher volumes of up to 5100ml/gr available. Gear pumps design is also available for higher volumes
Portioning accuracy of +/- 0.25% of liquid volume
Proprietary diving nozzles design – bottom up fill built in feature with programmable portioning speed graph for foaming and dripping prevention
Throughput: 12-16 cycles per minute per filling station depending on liquid characteristics, for portioning of up to 500ml.
Screw free construction with sanitary weldings for all liquid pipes and pipe works
Sub 20 minutes, tools-free change over
Fully programmable user friendly Siemens HMI & PLC
SST316L, electro polished, smart liquid tank finishing
Hermetically sealed tank design. "Double Jacket" heated tank, built in agitators – an option"
Applicable for hot liquid filling, up to 95° Celsius
Easy and fast automatic cleaning mode
CIP (clean in place) & WIP (wash in place) available
Built in Spray balls for enhanced CIP.
Flow-Mass Pumps, Gear Pumps or Peristaltic
Pumps design is available
Corrosion-proof & explosion proof upgrades available
Constructed of 316L stainless and USDA/FDA approved materials
Corrosion-proof & explosion proof upgrades available
Sub 20 minutes, tools-free change over
Contact us for more information on our range of liquid filling machines or for a full quotation – let us build your vision!