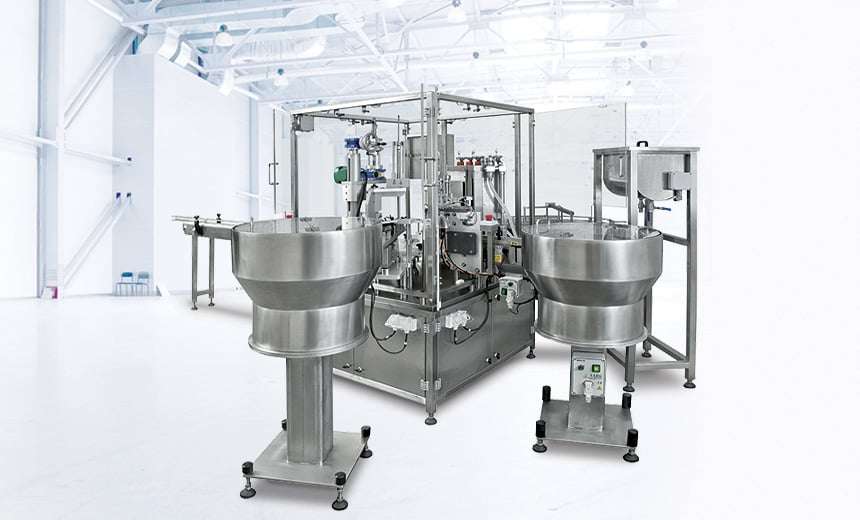 Truly Universal Monoblock Fill And Cap Machine For Vials – Auto Feed, Fill, Cap & Over-cap With QC For Small And Medium Sized Containers And Vials.
Built on decades of industry experience supporting the pharma and cosmetics manufacturing sectors with our in-line packaging solutions, Shemesh Automation have now brought together all our proven technologies for the first time in a single Monoblock Fill and Cap machine for Vials dedicated to the pharma and cosmetics sector.
The Sambax is a unique and truly universal monoblock packaging machine design that draws on our considerable expertise in high throughput production.
Through a process of continual evolution and constant dialogue with our customers the Sambax Fill and Cap machine for Vials offers significant productivity enhancements that will benefit manufacturers and boost efficiency and with a ROI (return on investment) that already justifies itself comparing to most machines in the market.
The SAMBAX's monoblock design meticulously encompasses all aspects of your core production needs, from containers multifeeding, double servo-driven viscose filling, capping, over capping, sealing, labelling, discharging and QC.
With dedicated models for almost every common type of medium (SAMBAX), small and extra small (SAMBAX-Z) containers and vials, the SAMBAX Series is your all-in-one pharmaceutical and cosmetics production unit.
The SAMBAX-Z has already been sold to a host of global manufacturers including Durisan in the USA
Benefits
SAMBAX model for medium containers and vials ranging from 350ml to 5 Litres
SAMBAX-Z model for small and extra small containers and vials ranging from 350ml to 5ml.
Western European Pharma grade machine build standard
Fully automatic feed, fill, pick & place cap and overcap with QC.
Thermal or induction Seal, Caps or nozzles "insertions" as well as labelling & coding available as an option
Models throughput range from 20ppm up to 100ppm.
Festo (Gemany) Double Servo Filling technology both in the pistons and the diving nozzles for production consistency and a staggering +/-0.25% of liquid volume accuracy
INDUSTRY 4.0 READY: SECOMA Site Manager 1139 modem, integrated into the machine HMI to enable SMART remote support, live stats and performance analysis as well as manufacturer enhancement feedback
Entire machine is Stainless Steel 316L.
Stainless steel, no-screws sanitary welding for all liquid pipes. Liquid smart filling tank made of 316L stainless steel, with electro polish finishing.
All flexible piping is FDA approved. No screws in nozzles. Tri-clamp connections.
Built in CIP. (Clean in place). Built in Spray balls for enhanced CIP
Round, hermetically sealed tank design. "Double Jacket" heated tank, built in agitators – an option
Up to 20 programmed product recipes
Doors and top cover made of Lexan or Polycarbonate.
Sub 1% machine defect rate
Cost effective, time efficient Line maintenance, cleaning and changeover. Filling auto flushing mode
available for up to 95ºC (203ºF) hot liquid