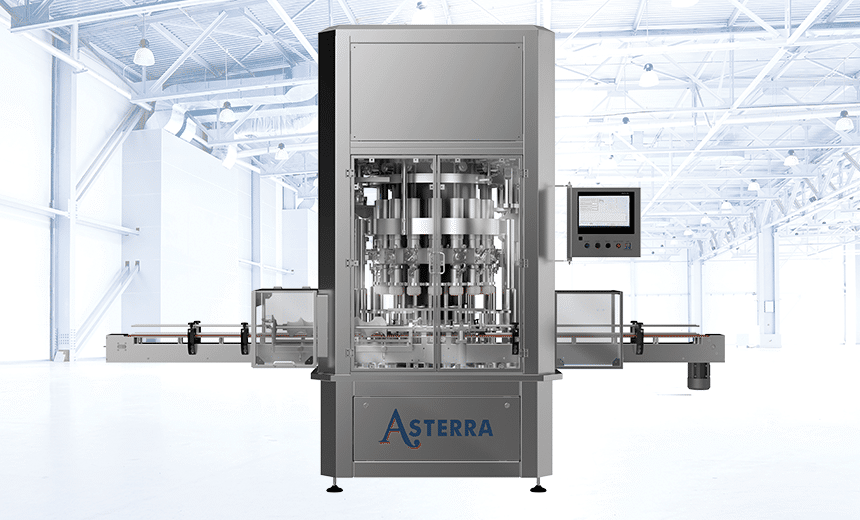 ASTERRA Mechanical CAM Rotary Piston Liquid Filling Machine is a  ROBUST, VERSATILE, HIGH PERFORMANCE Positive Displacement high technology based, small footprint, low utilities, sustainable solution. ASTERRA is equipped with cam driven filling stations each featuring a state-of-the-art SA nozzle proprietary design to fill your product with near zero leaks, splashes, bubbles, or overflow with ultra-high accuracy of+/- 2ml of filling volume.
ASTERRA has cam driven piston technology at each filling station, significantly lowers utilities consumption and reducing costs while boosting portioning speeds and accuracy levels, resulting in lower footprint overall.
The ASTERRA is easily adjusted to fill various product dimensions consistently and accurately with high range of viscosities and is applicable for hot products that are up to 95° Celsius. ASTERRA is fully controlled from the Siemens or Allen-Bradley HMI & PLC, is constructed of 304/316 stainless steel and features USDA/ FDA approved materials as well as sub 30 minutes, tools-free change over
General Specification:
ASTERRA main frames and construction base made of stainless steel SST304.
Robust, Sanitary design construction
Main frames and construction base made of AISI stainless steel 304. All product contact parts are AISI 316 stainless steel or FDA compliant polymer
SA proprietary mechanical cam and nozzles design. Programmable Bottom-Up portioning speed graph to adjust for various foaming and viscosities degrees. Drip/Splash/Overflow proprietary prevention mechanisms
Controls platform: Siemens or Allen Bradley
Gears and motors: SEW Germany
Pneumatics: Festo Germany
Sensors: Banners
Machine is Industry 4.0 ready
"No can – no fill" device with anti-breakage safety
Pistons entirely in stainless steel, Cylinders in high thickness stainless steel
No tool removal of pistons and valve plugs
Explosion proof / Corrosion proof upgrades available
Smart, hermetically sealed AISI 316 electropolished rounded reservoir with level controls and auto reload features
Please contact our team of expert sales engineers who can advise you further.