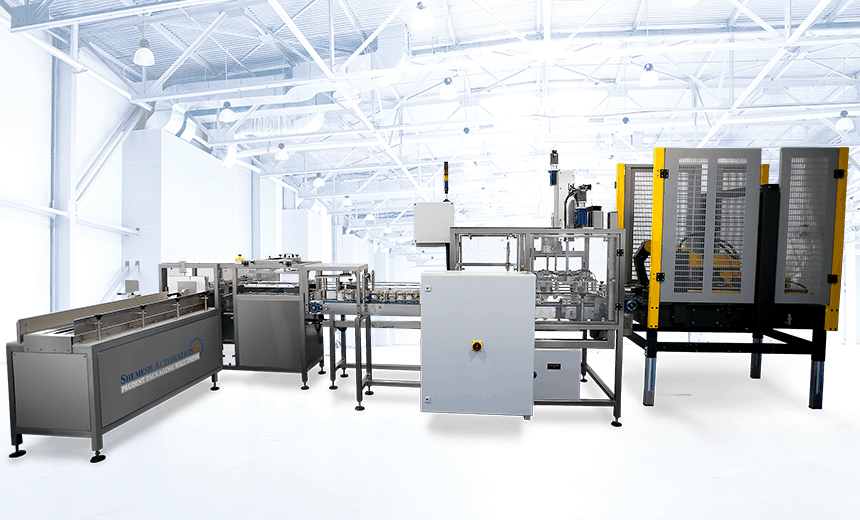 RELENTLESS Productivity, RELENTLESS Efficiency…
The RELENTLESS-V Complete Form Fill & Sealing Machine with VACUUM GRIPPERS is an end of line complete solution for fully automatic product Feeding, Carton Erecting, Product Manipulation and Configuration, Product Placing and Carton Sealing.
Synched. The RELENTLESS Complete Form Fill & Sealing Machine is designed as a seamlessly synched unit with the Shemesh Automation line.
Turnkey. The RELENTLESS Complete Form Fill and Sealing Machine is a crucial part of any line that aims to turn empty containers into stuffed/filled, sealed, capped and labelled containers in a sealed case containing the required configuration of finished products.
All the machinery you need to carry out the above functions can be provided by Shemesh Automation as an incredibly efficient turnkey production line.
The RELENTLESS Complete Form Fill and Sealing Machine is ideal for any common container/carton type in the Food and Beverage, Cosmetics, Pharmaceuticals, and Chemicals industries and is flexible enough to handle a variety of product shapes and case configurations.
Like all machines in the Shemesh range, the RELENTLESS is INDUSTRY 4.0 READY. It includes as standard a SECOMA SiteManager 1139 modem, integrated into the machine's HMI to enable SMART remote support, live stats and performance analysis as well as manufacturer enhancement feedback.
RELENTLESS also benefits from top-of-the-line SIEMENS PLC and HMI Control and its horizontal continuous carton magazine means the RELENTLESS does not need to stop for magazine charging. The continuous magazine enhances production productivity and minimizes equipment down time.
RELENTLESS Complete Form Fill And Sealing Machine Benefits
Throughput: up to 15 cases per minute (SILVERLINE) / up to 25 cases per minute (SXS)
VACUUM GRIPPER design engineered for a wide variety of container types
Ability to handle multiple product types and carton configurations
Servo motor driven container manipulator
Smart control and security systems
Quick changeover time and easy, cost effective maintenance
Designed for minimum space requirements
Versatile configuration with an ability to use all or just part of the functions offered
RELENTLESS does not need to stop for Magazine charging.