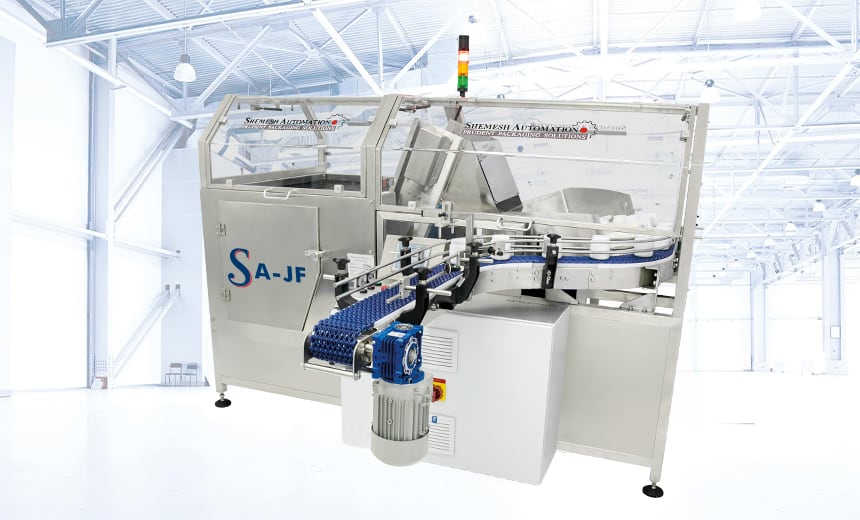 The flexible SA-JF PET Jars Descrambler machine is designed to fit various types of different shaped jars – square, oval or round. Different models applicable for speeds of up to 200ppm.
The fully synchronised PET Jars Descrambler machine reduces the need for manual operation and vastly improves the speed of your line.
Benefits
Fully-automatic
Multiple product orientations available depending on product shape and needs
Tool-less sub 10 minutes changeover
Throughputs available from 40-200ppm
Jar cleaner air jet available as an add-on
Applicable to containers of most common shapes and sizes in the Food & Bev, Chemicals & Pharma and Cosmetics industries.
How PET Jars Descrambler Works
The flagship product within Shemesh Automation's range of Front-Of-Line Packaging Solutions is the hopper and descrambler for fully automatic container feeding.
The SA-JF descrambler fits various types of canisters and requires virtually no additional changeover parts for different sizes. It features a top-notch control interface, robust building standards and benefits from Shemesh's 'easy-to-use' and 'built-to-last' approach.
First, empty containers are unloaded into the stainless steel SST304 container hopper, which has level transmitters for 'half-full' and 'empty'. From here they are collected by an elevator conveyor (first orientation) which transports them to a centrifugal feeding plate (second orientation). This orientates the containers before releasing them downstream along a conveyor in the perfect position as the jars stand with the opening rim facing the top.
Once on the SA-JF discharge exit conveyor, products normally advance towards the Shemesh-compatible fillers, sealers, cappers, labellers and case packers further down the Shemesh line.
Applicable Sectors
Pharma & Biotech
Food & Bev
Cosmetics, Health & Beauty
Chemicals.
SA-JF Series: PET Jars Descrambler Standard Spec
All Shemesh machines come with the following spec as standard:
Industry 4.0-ready FESTO (Germany) pneumatics and servo systems
Complete SST304/316L design
FDA approved piping as applicable
SIEMENS (Germany) PLC, HMI and MOTORS
BANNER sensors
E-stop buttons and safety interlocks wired through CAT IV safety controller
CE Marking.
Industry 4.0 Ready