If you are involved in liquid food and sauce packaging, there is a very real possibility that your liquid filling machines are pouring money, and your reputation down the drain.
It can be difficult to visualise the impact a substandard automatic liquid filling machine can have on your bottom line, and on how you're perceived by your customers. To help, we've put together a list of key questions you can ask yourself:
1. Do your liquid filling machines consistently operate with an accuracy of  +/-1% of filling volume (or worse!)? 
That may sound tight, but if you're filling containers with 500ml of liquid, for example, you will lose a whole bottle's worth of liquid for every 100 bottles you fill. That's potentially 1% of your profits, down the drain. All day, every day! Or to put it another way, say you overfill by 1%. If your line is producing 10,000 bottles per hour, you'll also be wasting 50 litres of liquid every hour. In one year of production, let's say that's 3,000 hours, you will be wasting a gigantic 150,000 litres of product! 
2. Do your filling nozzles touch your containers or product during the filling process?
If so, you could be compromising the hygiene of your entire line. With all the effort you're putting into keeping your facility and processes squeaky clean, imagine contaminating your product via something as simple as the outside of a filling nozzle? In a double-whammy, the type of nozzles that come into contact with product often also cause spillage down the sides of containers. Nobody wants that.
3. Speaking of cleaning… are you wasting hours on laborious cleaning processes because your machines don't have clean-in-place functionality?
Older or less sophisticated liquid filling machines often contain a complex web of membranes, sensors, seals and piping. Having such a large number of components to clean opens the door to potential contamination and of course, uses up a tonne of time and resource.
4. Would your filling machines cope with a change in product shape or size should you grow or change your range?
Imagine you go to the expense of creating fantastic new packaging, or you nail a huge contract from a new customer, only to find that your filling machine is not flexible enough to cope with the new product shape. Disaster. What looked like progress or fantastic news for your business could actually mean having to go to the expense of replacing your existing liquid filling machine.
5. What if the viscosity of your liquid product changed, or you received a giant order for a more viscose product. Would your filling machine cope with the new demand?
You may be completely happy now, churning out thousands of packs of juice every year, but what if your customer wanted to branch out into honey, or peanut butter? Would your current liquid filling machine cope? Or would you have to kiss goodbye to the new business? Even if your filling machine can cope with a change in viscosity, how long is the changeover process between products? Elongated downtime = reduced productivity = reduced profits. 
If your answers to any of the above questions have left you worried or downhearted about your current liquid filling solution, don't worry, Shemesh Automation has your back!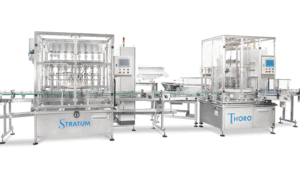 Our flagship automatic liquid filling machine the STRATUM contains all of the following money and reputation-saving specifications:
Festo (Germany) Double Servo Filling technology both in the pistons and the diving nozzles for production consistency and a staggering +/-0.25% of liquid volume accuracy
Throughput available from 2 to 12 heads or 40-180ppm for up to 500ml liquid vol.
Welded to Pharma sanitary standards using 316L stainless steel and constructed using USDA/FDA approved materials
Viscosity applicable range from 1 to 500,000 Centipoise (water is at 1, peanut butter is at 250,000)
Portioning range from 100ml/gr-1200ml/gr. Higher volumes of up to 5100ml/gr available
Proprietary diving nozzles design – bottom-up fill built-in feature with programmable portioning speed graph for foaming and dripping prevention
Sub 20 minutes, tools-free change over!
Fully programmable user friendly Siemens HMI & PLC • SST316L, electro polished, smart liquid tank finishing
Applicable for hot liquids, up to 95° Celsius
Easy and fast automatic cleaning mode
CIP (clean in place) & WIP (wash in place) available
Built-in spray balls for enhanced CIP
Corrosion-proof and explosion proof upgrades available.
Talk to Shemesh today about our complete range of advanced packaging machinery and see how we can 'Build Your Vision.