In an era where consumer choices abound, product presentation and quality preservation play a pivotal role in influencing purchasing decisions. This is where an efficiently designed food packaging line, powered by state-of-the-art food filling machines, emerges as a game-changer. Here are some of the key benefits that underscore the importance of these machines:
What are the Types of Food Filling Machines?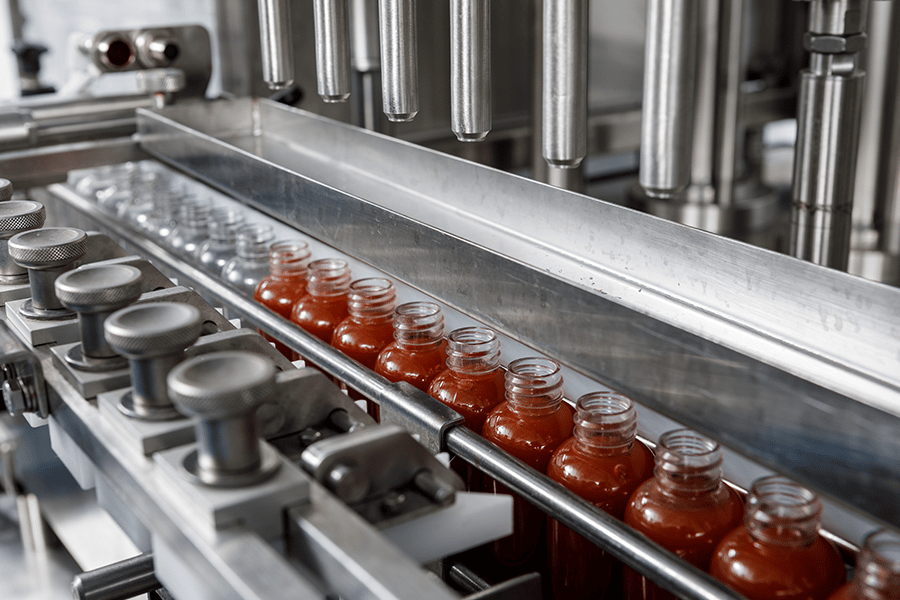 Food filling machines come in various types, each designed to cater to specific product consistencies and packaging requirements. The diversity of these machines ensures that both liquid and solid food products can be efficiently packaged. Here are the primary categories:
By selecting the appropriate type of food filling machine, manufacturers can optimize their packaging line to accommodate a wide range of products while maintaining efficiency and quality.
How do Food Filling Machines Work?
Food filling machines are the backbone of efficient packaging lines, ensuring accuracy and consistency in product filling. They operate on three main levels: manual, semi-automatic, and automatic, each with distinct advantages.
Automatic machines excel in maintaining hygiene, reducing product waste, and accommodating various product types. With programmable settings, they effortlessly switch between different products and packaging sizes, adapting to market demands swiftly. The reduced need for constant oversight enhances productivity and reduces labor costs.
In a competitive market, where speed, precision, and consistency reign, automatic food filling machines emerge as the optimal choice. They streamline processes, boost output, and elevate product quality, making them an indispensable asset for modern food producers. For a more in-depth guide on how to choose the right food filling machine for your product, check out our blog.
 What Types of Food Require Filling Machines?
Food filling machines cater to a diverse array of products, ensuring precise and efficient packaging. Some of the key food categories that greatly benefit from these machines include:
The versatility of food filling machines makes them indispensable for an expansive range of products, contributing to both efficiency and product quality across the food and beverage industry.
 What Other Types of Machines are Essential for a Food Packaging Line?
In addition to food filling machines, a well-rounded packaging line requires a synergy of complementary machinery to ensure a seamless production process. Shemesh Automation's Complete range of packaging machinery offers food manufacturers the ability to automate their entire packaging process – from product feeding and unscrambling all the way to case packaging and palletizing. These advanced solutions are all built, installed and integrated under one umbrella by Shemesh – offering food manufacturers a distinct competitive advantage.
Shemesh's comprehensive range of food packaging machinery includes:
Shemesh Automation's Core Line packaging machinery embodies innovation, precision, and reliability, essential qualities for food manufacturers aiming to achieve efficient, high-quality packaging processes. The integration of these machines into a packaging line not only enhances productivity but also ensures that products reach consumers with consistent quality and looking their very best.
Contact us to discuss your food filling machinery needs today!