Core Line Packaging Machinery

Any high-quality packaging line needs top-notch Core Line Packaging Machinery. Shemesh Automation's range of core line packaging machinery offers innovation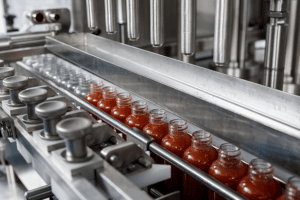 at every stage, and reliability you can count on.
Shemesh Automation manufactures premium filling and packaging machinery for both flexible and rigid packaging. We engineer a complete range of individual and end-to-end systems that make your production faster, smarter and more cost effective.
Our feature-rich products offer strict waste management, minimum downtime, safety, product protection, quality control, operational flexibility and long term reliability. We do this all under one umbrella leveraging our innovative approach and engineering expertise.
Working across all industry sectors, we have built a reputation for quality; both in terms of our well known Israeli engineering excellence and unparalleled UK based customer service. In addition to our core solutions – feeding, loading, filling, capping, sealing, labelling and packing – Shemesh Automation offers turnkey applications as well as monoblock and custom machines. We are also at the forefront of the wet wipes industry. Shemesh Automation Wet Wipes our nonwovens operating arm, is considered a world leader and pioneer of nonwoven downstream packaging solutions.
As a family owned and run globally operated business our unique mix of people and expertise builds the trust needed for long term partnerships. And, with over 30 years' experience in the packaging industry, producing high quality solutions for major global manufacturers and supporting over 1400 machines in over 30 countries, no other manufacturer understands today's business needs and delivers tomorrow's packaging solutions as effectively as Shemesh Automation.
From single unit feed through to complete packed product cases, few other companies provide the advantage of a true one-stop-shop service. Moreover, no other company in the world offers our blend of Israeli high-tech startup mindset combined with a London headquarters and European business standards.
Applicable Sectors
Food & Bev
Cosmetics, Health & Beauty
Pharma & Biotech
Chemicals
Nonwovens
Types Of Machinery
Loading Machines
Liquid Filling Machines
Auger Filling Machines
Sealing Machines
Capping Machines
Labelling Machines