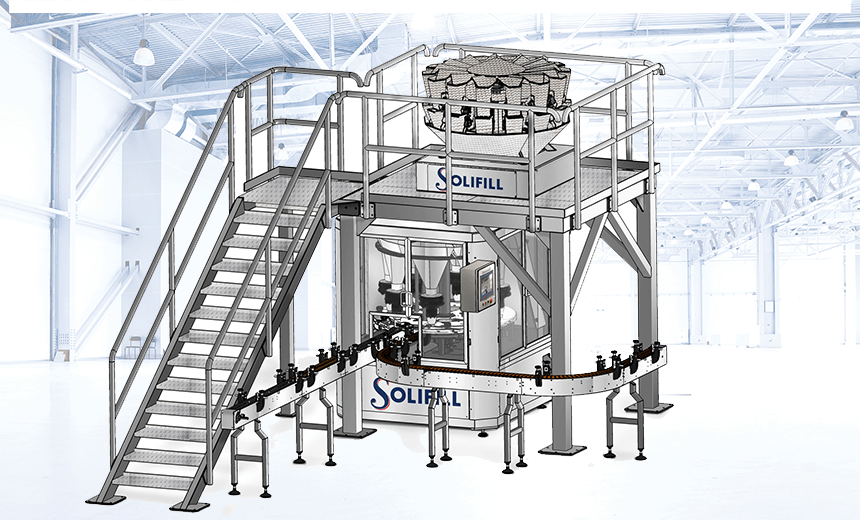 Solifill is a continuous rotary multi-head weigher based filling machine which dispenses a predetermined fill weight of product to the continuous motion rotary base, transferring product into the customer's rigid container / bottle / jar through a transfer funnel.
The bottles are fed through a timing screw into an infeed-starwheel which in turn feeds the main turret. Once in the main turret the combination scale filler is timed with the rotary platform to ensure accurate weight transfer. The product then travels onto a vibration section within the turret to allow for the transfer and settling of the entire specified fill amount into a narrow container / bottle opening.
The Solifill was designed for gummies and jellies, which are renowned in the food, supplements, and nutraceuticals sectors for being one of the most hard to handle products.
The Solifill is made from stainless steel and is food grade.
Machine parts:
Product Hoper / Bunker
Bucket elevator infeed system (z conveyor)
Multi head weigher
Filling turret
Check weigher / metal detector
Stainless steel platform for maintenance and service
Standard specifications:
Weigher – Combimat (Holland) (standard) or Ishida / Yamato (optional)
Complete SST304/316L design
Throughput: 30-150 ppm
"No Container, No Fill" device
Benefits:
Accurate filling
All parts are detachable and can be washed easily
Quick changeover
a vibration section within the turret to allow for the transfer and settling of the entire specified fill amount into a narrow container / bottle opening
Unique design of the funnel – for optimal release of the product