When considering which food filling machine to add to your production line, the most important consideration is your product type.
For example, which of the following accurately describes your product?:
Almost liquid: (eg, sauces, vinaigrette)

Semi viscous and viscous (eg, cheese dips, soft spreads, cream cheese etc)

Liquid with small chunks (eg chutneys, relishes etc)

Viscose with large chunks (eg potato salads, pastas salad in sauce etc)

Non-liquid chunky products (eg, mixed veg)
Different product-types necessitate different types of filling, with servo-driven piston filling machines in particular being known for their accuracy and versatility in dealing with a wide range of viscosities. 
Other important considerations include:
Does your food filling machine need to have a fast changeover cycle to enable quick transition between products?

What speed does your food filling machine need to operate at?

Does your food filling machine need to fill both hot and cold products?

What is the size and filling volume of your product container?
Let's take a look at two recent Shemesh food filling machine success stories:
Success Story 1: Shemesh Spices Up Yellowbird's Sauce Production with a 100ppm Filling, Capping and Labelling Line
Yellowbird Foods, a Texas based sauce producer, has experienced rapid growth since they debuted at a local farmers' market in 2013.
Now a top 10 sauce supplier on Amazon, the dramatic increase in demand for their fresh tasting spicy condiments soon necessitated an increase in production. But with such meticulous standards in product quality, sourcing equipment capable of achieving production consistency at high throughput would be no easy task. Thankfully, Yellowbird® found Shemesh Automation.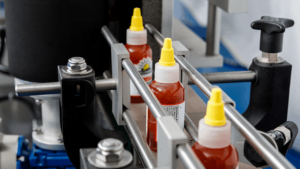 Shemesh was able to deliver a sauce filling, capping and labelling solution that offered Yellowbird® an enhanced throughput of 100ppm, whilst ensuring the highest standards in product consistency, hygiene and efficiency.
The line included an enhanced version of Shemesh's flagship automatic liquid filling machine  – the STRATUM.
With a throughput of 100ppm, the STRATUM servo-driven piston food filling machine offered Yellowbird® the highest standards in product consistency, hygiene and efficiency.
The capacity and speed of the STRATUM food filling machine afforded Yellowbird® the ability to seamlessly fulfil each product range with minimal downtime between runs, thus reducing costly capital outlays, space and utility consumption associated with multi production lines. 
STRATUM's empirical ability to negotiate a wide range of viscosities meant the Yellowbird® sauces retained their enticingly smooth mouthfeel and famous fresh punchy flavour.
You can watch a video of the line in action here: 
Or read about the line in industry-leading publication, Packaging News
Success Story 2: Complete Food Filling Machine Packaging Line
When a leading producer of chunky condiments and salad dressing was in need of automating their production, they looked no further than Shemesh Automation.
Whilst the complete line developed for the manufacturer included automatic twist capping, wraparound, top and side tamper-proof labelling and tray packing, the star of the show was the STRATUM automatic food filling machine. 
The product range offered by the manufacturer, including dressings, chutneys, pickles and pastes, all with varying viscosities, many including particulates. This meant the flexibility of the food filling machine was of paramount importance.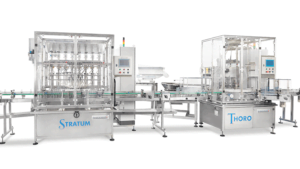 The food-approved 60ppm STRATUM filling machine engineered by Shemesh for this specific application included:
Proprietary 'no-drip' 'clear-cut' screwless diving nozzles – perfect for viscose food filling

Proprietary nozzle-valve for semi-liquid products and particulates

FESTO Servo-driven pistons

USDA/FDA approved pipes

316L Stainless Steel and electropolished smart liquid tanks

Built in mixing unit for particulates

Heated double-jacket SMART liquid tank – applicable to hot liquids up to 95℃.
The result was a completely automated packaging line, capable of filling a wide range of the manufacturer's products with ultra-accuracy, minimal waste and limited changeover downtime. 
You can view a video of the complete line in action here:
As with all Shemesh machines, this line included the following premium specs as standard:
Industry 4.0-ready

FESTO (Germany) pneumatics and servo systems

Complete SST304/316L design

FDA approved piping as applicable

SIEMENS (Germany) PLC, HMI and MOTORS

BANNER sensors

E-stop buttons and safety interlocks wired through CAT IV safety controller

CE Marking.
For a free consultation on the perfect food filling machine or complete packaging line for your product, contact us today!