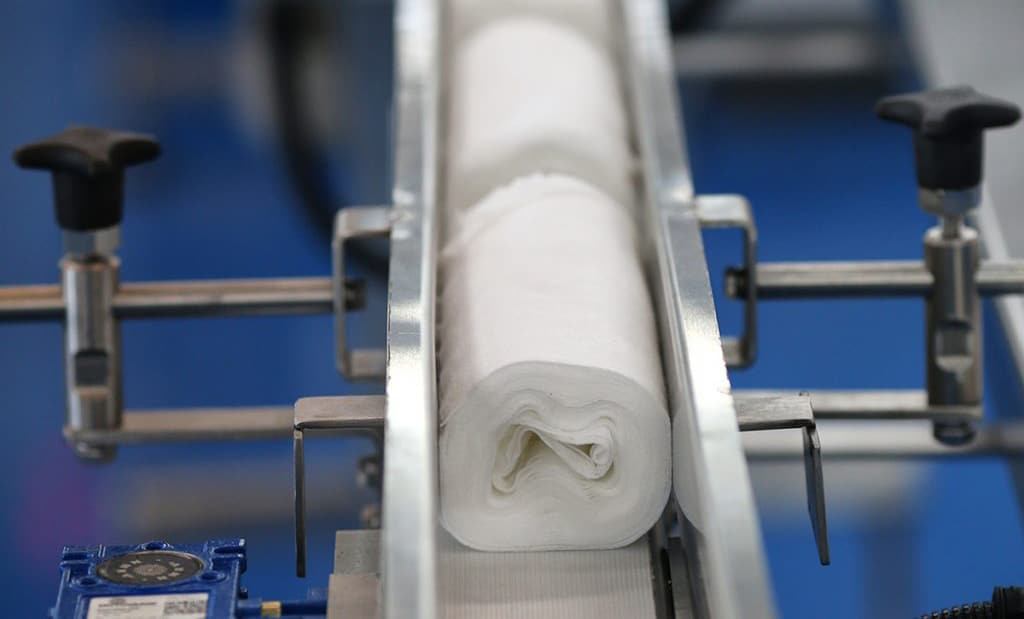 Rolls Feed Conveyor – Seamless Connectivity, Increased Productivity
Shemesh Automation recognises that the most effective systems are those where all the constituent parts work seamlessly together.
The Rolls Feed Conveyor therefore, plays a crucial part in this turnkey system, seamlessly connecting the converting machine to the SAS120 Rolls Stuffer.
A major advantage is that the System is made of four (4) belt stainless steel SST304 conveyors, meaning that if one gets stuck productivity is not affected.
SA's rolls feed conveyor provides seamless integration with our full range of machinery, including:
FGW Automatic Liquid Filling Machine
The FGW is a top of the range positive displacement linear automatic doser and filler machine made specifically for the wetting process of nonwoven rolls in canisters. It is easily adjusted to fill various volumes with high range of viscosities. And in addition to under 20 minutes toolless changeover time, the FGW boasts proprietary screwless showerhead nozzles with no-drip, no overflow engineering that delivers a staggering homogenous and effective liquid absorption. Each FGW filling station has its own gear pump and encoder, giving it a filling tolerance that is only +/-2gr(!) of volume. The FGW is industry 4.0 ready, fully controlled from the SIEMES HMI, has a built-in CIP and a smart liquid tank.
SEALPRO Automatic Sealing Machine
Shemesh Automation offers a wide range of versatile and fully programmable seal, seal-fill, or seal-fill-cap machines in either in-line or monoblock configurations with throughputs in the 1,000-12,000 pph range.
The SEALPRO120 automatically cuts the sealing laminate according to your product size and thermo-seals it accurately in position. It offers 6 individually temperature controlled welding heads built inside one robust sealing block that deliver a consistent application of heat to ensure a perfect seal.
Sealers are offered as either as Cut & Seal solutions that cut and seal film from a reel or as Seal Only solutions using pre-cut lids.
CIW Automatic Capping Machine
Specifically designed for rolls of nonwoven wipes, a part of our first-class Rolled Wipes Downstream Series, the versatile CIW120 Automatic Capping Machine can accurately cap a wide range of canister lids. Not only have we managed to bring changeover time to a minimum, but we've also designed a special lids-deformation prevention mechanism while making it possible to easily handle virtually every type of canister lid existing in the market with just one machine.
LWA Labelling Series
With the LWA Universal Labelling Machine Series we have combined German and Israeli engineering excellence to provide the perfect solution for applying different types of labels to a multitude of container shapes.
Using the HERMA (Germany) rotary labelling applicator model H400 Premium, engineered for SA's LWA Series has resulted in a range of robust, low-maintenance and built-for-life range of machines with a stunning, better than one third of a millimetre accuracy at speeds of up to 600ppm.
All LWA Labelling machines are capable of applying any type of self-adhesive label e.g. P, PE, opaque, transparent, paper, etc.