Miscellaneous Packaging Automation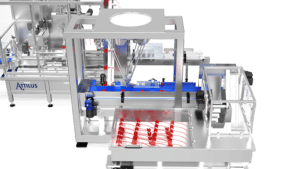 Aside from top quality Front Line, Core Line, and End of Line machinery, Shemesh Automation also offers a range of Miscellaneous Packaging Automation technologies and services to supplement and enhance packaging lines. These include:
Full range of quality control
Check weighers
Metal detectors
Sealing thermal imaging
Equipment integration & line planning
Explosion (EX) and corrosion protection
Consultation.
Please contact us to discuss any requirements you may have.
ATEX And Anti-Corrosion Protection
Corrosive or alcohol-based solutions dictate that your equipment is duly fitted to professionally handle these delicate environments.
Years of experience in the field makes it possible for us to tailor the exact protection so your production is safe and stable while your people and equipment are well protected, keeping your facility top of range.
All of our machines are constructed using SST 304/316L, and are available with anti corrosive proprietary coating.
As well as the machine base, all vital parts such as nozzles and pumps are also specially treated.
We're Ready For Industry 4.0, Are You?
INDUSTRY 4.0, the digital transformation of industrial markets is already happening and smart manufacturing is at the forefront. You can rely on Shemesh to keep you ahead of the trends, and the competition. All our machines are fitted, as standard, with a SECOMA SiteManager 1139 modem, integrated into the machine HMI to enable SMART remote support, live stats and performance analysis as well as manufacturer enhancement feedback.
Working across all industry sectors, we have built a reputation for quality; both in terms of our well known Israeli engineering excellence and unparalleled London based customer service. In addition to our core solutions – feeding, loading, filling, capping, sealing, labelling and packing – Shemesh Automation offers turnkey applications as well as monoblock and custom machines. We are also at the forefront of the wet wipes industry. Shemesh Automation Wet Wipes (www.sawetwipes.com), our nonwovens operating arm, is considered a world leader and pioneer of nonwoven downstream packaging solutions.
As a family owned and run, globally operated business, our unique mix of people and expertise builds the trust needed for long term partnerships. And, with over 30 years' experience in the packaging industry, producing high quality solutions for major global manufacturers and supporting over 900 machines in over 30 countries, no other manufacturer understands today's business needs and delivers tomorrows' packaging solutions as effectively as Shemesh Automation.