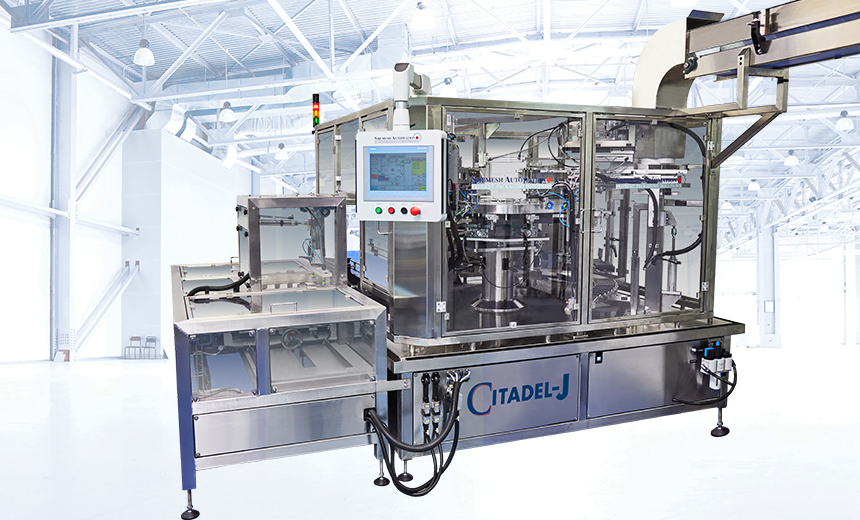 The First-To-Market Monoblock Jumbo Wipes Bagger
PACKAGING AUTOMATION – BAG/POUCH FEED, ROLL STUFFING, LIQUID FILLING, JUMBO BAG SEALING – ALL IN ONE BLOCK WITH FULL QC!
Shemesh Automation is once again first to market with an all-in-one system designed specifically to serve the jumbo round wipes in flexible packaging market.
The Citadel-J harnesses all the knowledge and innovations that were key to our globally successful Xpander monoblock for wipes in canisters and other nonwovens packaging technologies such as the SAS120 stuffer. The tried and tested all-in-one monoblock design of the Citadel-J encompasses all aspects of round wipes downstream packaging from Jumbo bags feeding, roll stuffing, liquid filling, bag sealing with full built-in QC!
Built to meet customer demand for sustainable, economical and fast flexible pack wipes packaging machinery, CITADEL-J delivers savings both for your bottom line and the environment.
Requiring just one person for operation, the Citadel affords flexible and efficient operation and offers exceptional ROI while reducing waste, cutting production times and maintaining high levels of product quality.
Designed with space-saving in mind,  Citadel-J is capable of operating in very small spaces.
For more information on our full range of Wet Wipes packaging machinery, including solutions for both rigid and flexible packaging, visit our dedicate site, www.sawetwipes.com
Benefits
Throughput: 8-12ppm (jumbo bags)
Direct and easy integration to the rewinding unit
Closed bags opening feature
All welded to pharma sanitary standards using 316/304 stainless steel
Designed for operational flexibility and ultra low, tools free sub 40 minutes format parts changeover downtime
INDUSTRY 4.0 READY: SECOMA SiteManager 1139 modem, integrated into the machines' HMI to enable SMART remote support, live stats and performance analysis as well as manufacturer enhancement feedback.
Advanced QC including multiple check-weighers significantly increasing efficiency
Enhanced, height-adjustable anti-overflow, proprietary designed filler nozzles. Portioning tolerance of 0.5% of filling volume – reducing waste
Bag inflation: bags are inflated with the exact amount of air needed to facilitate speedy opening and rolls stuffing
Two-stage filling, minimising foaming and spillover whilst achieving a higher throughput
A newly developed design for wipes bag loading Easy-to-access 'smart' controls with multiple HMI's around the Citadel for simple operation
Adjustable rewinder-to-Citadel throughput technology
Air evacuation