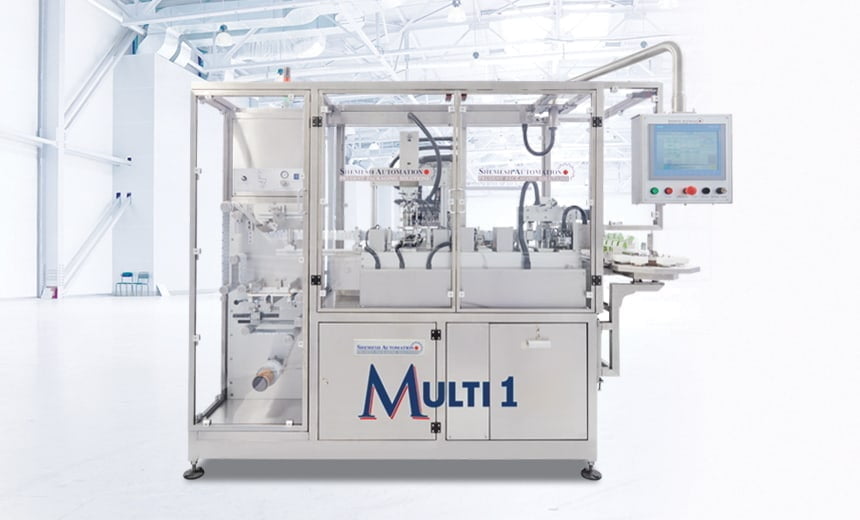 The Multi-1 sachet filling machine is the World's Premier Horizontal FFS With Integrated Stacker, Packer & Product Auto Feeder
Applicable to the food and beverage, beauty and cosmetics, pharma and chemical industries, MULTI 1 is a fully automatic Horizontal FFS, stacker, packer & product auto feeder.
Encased in a single frame with a footprint that is better than a sofa at just under 2.5m x 1.5m, the Multi 1 sachet filling machine can perform the functions of several machines which significantly reduces the need for large floor space, reduces overhead costs, and maximises product output.
The Multi 1 sachet filling machine has been specifically designed for the creation of flat sachets. Whether it is sticks, sauces powders, gels, liquids, pastes, creams or any viscous products, the Multi 1 is designed to fill a wide range of flat sachets and boxes which are a perfect format for samples or product promotions.
Benefits
Servo-driven Cam design
Western European pharma grade machine build as standard
Fully automatic feed to form, fill, seal, cut, stack and carton pack sachets with complete QC
Coding and printing via an internal integrated easily accessible Markem Imaje printer
Pre-cut perforation
Auto stacking and packing of sachets into boxes
Manoeuvrable and fully programmable user-friendly Siemens HMI & PLC
Built in CIP (cleaning in place) mechanism
Entire machine constructed with Stainless Steel 316L
SMART remote support, live stats and performance analysis as well as manufacturer enhancement  feedback
Cost effective, time efficient line maintenance, cleaning and changeover
INDUSTRY 4.0 READY: SECOMA Site Manager 1139 modem, integrated into the machine HMI to enable SMART remote support, live stats and performance analysis as well as manufacturer enhancement feedback