Well known for its in-line filling systems, Shemesh Automation showed at PACK EXPO Las Vegas a new viscosity products. The robust Asterra machine is a positive-displacement piston filling machine with a filling tolerance of +/- 2mL and speeds to 300 containers/min (higher throughputs available depending on the number of filling stations). The machine shown at Las Vegas had 16 filling heads and is suitable for a range of products in food, beverage, cosmetics, chemicals, household products, and others.
The Asterra features a proprietary mechanical cam with built-in bottom-up Shemesh nozzles and portioning technology developed across three decades of expertise in manufacturing high-quality and reliable filling and packaging machines. Asterra also offers a programmable portioning speed graph for anti-foaming and drip prevention. Mechanical-cam based, Asterra's technology is said to deliver higher accuracy as the filling process itself does not depend on auxiliary air pressure, which may be unstable or sometimes liquid-contaminated. Additionally, with this filling method the portioning process is faster and more consistent while producing less waste and spillage. Thanks to its proprietary nozzles and mechanical cam technology, unlike other more common pneumatic based rotary piston fillers, Asterra can also easily fill highly viscous liquids, including sauces with fruit pieces inside, peanut butter, pastes, etc.
There is also no trade-off when it comes to hygiene: the new Asterra is constructed of 304/316L stainless steel and USDA/FDA approved materials as well as sanitary welds. The mainframe, slat chain conveyor and construction base are made of 304 stainless steel, while all pistons and 170 L smart liquid tank are constructed from 316 electro polished stainless steel. Featuring tri-clamp sanitary nozzle connections designed for quick cleanup and maintenance, the tool-less cam mounting system saves valuable time when changing production and product specifications; less than 30 minutes are required for the complete changeover.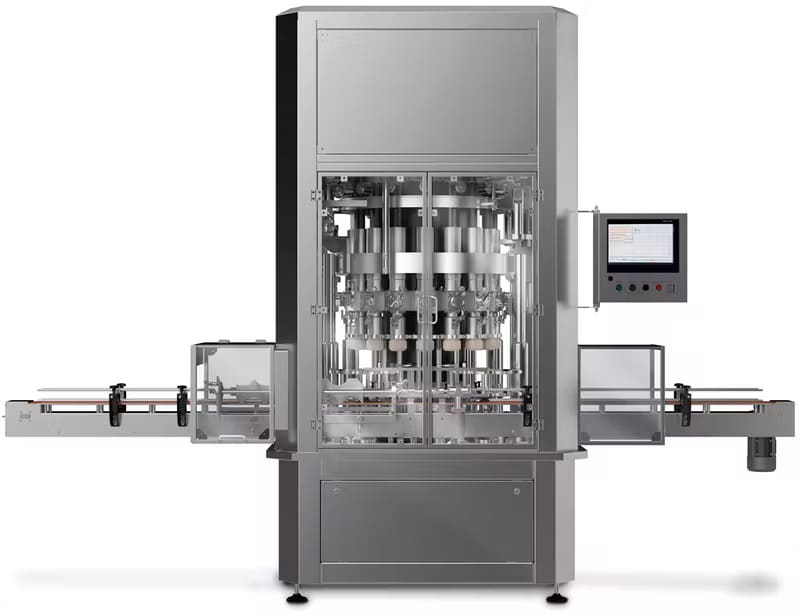 Featuring top-of-the line SEW motors, this rotary filling machine is fully controlled by a Siemens HMI and PLC, though a Rockwell controls platform is also optional. Fill speed and portioning trajectory is adjusted simultaneously for all pistons via the touch panel. The user-friendly interface software provides a wide range of functions, controls, monitoring, and traceability for improved production efficiency.
This filling machine is offered both as a stand-alone filler, in a rinser-filler-capper monoblock, or in a filler-capper monoblock configuration. Asterra can also be easily incorporated as part of the complete Shemesh custom-made bottling line featuring unscramblers, rinsing machines, loading systems, cappers, sealers, labellers, case packers, palletizers, and depalletizers.
The new Asterra has a small footprint: 4.9 ft x 5.2 ft only (1500 mm x 1600 mm), excluding infeed and outfeed conveyors. That is thanks to the fact that the portioning process itself is much faster, which results in a need for fewer filling stations and smaller turrets overall, saving space in your production plant. Furthermore, Asterra's mechanical cam technology does not require pneumatics and air-pressure dependency. This in turn results in a more consistent and sustainable machine that requires less utility consumption.
More innovative liquid filling technology was on display from Syntegon subsidiaries Ampack GmbH, Germany, and Osgood Industries, LLC, USA, who highlighted the new LFS filling machine (2) for the dairy and food industry. Available in clean or ultra-clean hygienic executions, the LFS fills pre-formed containers with liquid, viscous, or pump-required products, such as yogurt, sour cream, margarine, deli salads, dips, sauces, soups, or retorted pet food. The machine's new modular concept enables manufacturers to react quickly to changing market demands. Each machine function can be retrofitted, added, or exchanged to meet customized requirements. The open design ensures optimum accessibility and visibility for easy cleaning and maintenance, resulting in a highly efficient and economical production.
The ability to flexibly handle a variety of products and formats is a key advantage in the highly competitive food market. "While developing the LFS, we paid special attention to a modular concept, which enables our customers with peace of mind that their new filling and packaging solution can be counted on for decades to come," says Oguz Karcier, Product Manager at Syntegon.
The LFS consists of individual modules that include main machine functions such as cup supply, disinfection, filling, sealing, capping, and cup discharge. Each module can be configured, added, or retrofitted according to individual production needs for maximum flexibility. For example, the LFS can be equipped with either a servo-driven tank pump for homogeneous liquid products or a spool pump for viscous foods such as potato salad. And according to Head of Sales & Marketing Jonathan Viens, 2022 will see the commercial availability of a servo-driven single-pump system capable of handling a variety of different product viscosities. "It could be a game-changer," says Viens. "It will let customers go from one viscosity range to another simply by changing nozzles."
The dosing station incorporates exchangeable nozzles as well as integrated CIP (Cleaning In Place) and SIP (Sterilization in Place) for ultra-clean configurations. The LFS processes all common container formats with a diameter between 60 and 160 mm on up to eight lanes with a maximum output rate of up to 20,000 cups/hr. In sequential indexing configuration, alternating carrier plates allow for processing two different packaging formats one after another without format changes needed.
To ensure optimum hygienic conditions during the filling process, the disinfection station can be configured to meet individual product requirements. For ultra-clean applications such as products with extended shelf life, customers can opt for two types of chemical-free disinfection methods: UVC light or pulsed-light technology from Claranor. Optionally, the same technologies can be used to disinfect the lids before placing them on the cups. In addition, HEPA filters purify the air, while container vacuums remove loose particles and debris from the cups before filling. Food producers can seal their product's packaging either using pre-cut lids or by heat-sealing rollstock film. Integrated sensors perform seal integrity checks to detect any leakage or poor seals to ensure product safety.
Thanks to its overall open layout and maintenance-friendly design, operators have optimum accessibility to the LFS machine parts and can perform tool-less format changes safely and quickly. Another notable new feature addresses a common problem that chain-driven machines like this have been prone to regardless of who makes them. "The stainless steel carrier plates are pretty heavy, and the chains that drive them inevitably stretch," explains Viens. "That can cause misalignment when, for example, a carrier plate delivers a cup to a sealing station, and with misalignment comes a bad seal. So we built in a measure of adjustability in each of these stations down the axial length of the machine so that as the chain stretches, you can tweak the position of the carrier plate to avoid misalignment."
From an ease-of-use perspective, the integrated HMI 4.0 multi-touch screen provides intuitive operator guidance with a clear and structured menu to assist efficient workflow and simplify troubleshooting. Further digital solutions can be added to enable quick product changes. For example, recipe changes and all necessary machine parameter adaptions are done automatically by the push of a button. In terms of sustainability, the LFS saves energy and can be configured to process sustainable materials, including paper and mono-materials, for better recyclability.
As for the controls architecture, the LFS features distributed electronics from Bosch Rexroth as well as Bosch Rexroth servo motor/drive combinations in one form factor. "Distributed electronics eliminates the need for a remote electrical cabinet," says Viens, "which in turn shortens the installation and commissioning time because you don't have to run wires to and from the cabinet. Instead you just bring power and air into one central location."
One more look at an innovative liquid filling system, one that might be one of the most compact preformed pouch fillers (3) in the world. It was featured at the WJ Packaging booth. The pouches being filled were of the spouted variety, and the intermittent-motion machine also torques a cap, injection molded of PP or PE, onto the spout after filling. Two models, the single-spout Tower III (shown above) and the twin-spout Tower III Plus, were demonstrated. Both models feature a clever pouch-feed system that is essentially a rail holding pouches. As soon as one rail is empty, an operator
signals the next rail to begin feeding in pouches, so there's no interruption in production
removes the rail that has just been emptied
inserts a fresh rail full of pouches that can be activated when the current rail is depleted
But it's the remarkably small footprint that really makes these machines stand out. The single-spout Tower III, capable of speeds to 14 pouches/min, has a footprint measuring 1100 mm x 700 mm (43 x 28 in) and stands 1550 mm (61 in) tall. The twin-spout Tower III Plus, capable of speeds to 24 pouches/min, has a footprint measuring 1740 mm x 810 mm (69 x 32 in) and stands 65 in tall.
WJ Packaging is a Vancouver, British Columbia, distributor of these machines, which are made in South Korea by an unnamed OEM. WJ Packaging's expertise is in laminating and pouch making. Pouch specs can vary considerably depending on application. But at PACK EXPO the pouches were a three-layer lamination of polyester/aluminum/PE.
Smoothies, drinks, and juices are the product categories for which these machines are suitable. A pneumatic cylinder with a metering pump distributes precise and accurate volume with each cycle, says WJ Packaging. And a temperature-regulating fill tank can maintain liquid temperatures at a desired level up to 130ºC (266ºF).
Streamlined Integration
Fully functional integrated packaging lines occupy a lot of space, so they're rare on trade show floors. But that's not necessarily true for ProMach, who brings the equivalent of a whole town (streets, boulevards, and stoplights included) to the PACK EXPO portfolio of events. In Las Vegas, ProMach's vision of merging two (or more in this case) of its product brands together into one streamlined solution attracted a lot of attention.
The integrated packaging line (4) stars three of ProMach's product brands: Matrix, Quest, and Wexxar Bel, and demonstrates the ease of how the brands collaborate together to fill and package candy mints.
Attendees saw mints weighed on a Yamato scale and released through a forming tube into a pillow bag created from rollstock film on a Matrix Morpheus Vertical Form Fill Seal Machine. The Morpheus was paired with an ID Technologies (also a ProMach brand) Compact 53C Thermal Transfer printer to code the packages. A conveyor then moved packages, each containing five to six mints, over a Matrix EC-E Checkweigher for a final weigh check to a Quest Quik Pick QP200 robotic case packer.
The QP200 were fed cases from a Wexxar Bel WF 20 Fully Automatic Case Former.
Picking the mints off the conveyor was a neat thing to see as the QP200 uses two Fanuc Delta-style robots. These robots picked packages from the conveyors and top-loaded the mints into cases. The cases then continued their journey to a Wexxar Bel 250 Fully Automatic Case Sealer, where they were sealed and then moved to the final step of the live demonstration: robotic palletizing with a new Quest Box Bot.
Show attendees saw just how small a footprint an integrated line of this size really is, and it could be made even more compact if necessary. This fully functional integrated packaging line was meant to illustrate ProMach's ability to bring its product brands closer together to better meet the needs of its customers. Projects like this allow customers to have one central point of contact, and that contact really serves as a one-stop, full-service provider by connecting all the ProMach brands together. This level of project management greatly streamlines the planning process, installation, and start-up curve for packaging lines.
---
This article was originally published on Packaging World.