A packaging revolution is taking place that is making life easier for consumers whilst opening up a whole new world of marketing opportunities for manufacturers worldwide.
As you walk down any supermarket aisle, you'll be sure notice the proliferation of brightly coloured premade stand-up pouches occupying the shelves.
From non-woven wipes and cleaning products to soups, sauces, rice, and cheese, manufacturers across many vertical markets are using premade stand-up pouches to stand-out from their competition.
The reasons many manufacturers are opting to include premade stand-up pouches in their ranges include:
Popularity among Millennials
According to Packaging Digest, pouches offer 'special appeal' to millennials, who are attracted by the high-quality graphics, microwaveability and portability of products.
Even if Millennials are not your target market, the point about graphics is important. Pouches give manufacturers plenty of valuable printing space with which to advertise their product or brand. The customer-facing surface area is far larger than a can, for example.
The size and printability of the brandable space allows manufacturers to position themselves effectively with 'free advertising' that stands out on supermarket shelves.
Just the look and feel of pouches convey 'convenience', but they're practical too, offering zip-locks and tear off strips for re-usability.
Versatility
As well as the aesthetic benefits discussed above, the versatility of stand-up pouches also make them extremely popular among contract packaging firms. Because they can be pre-fabricated to any shape or size, stand-up pouches allow for ultimate flexibility in terms of product range. They also allow contract packagers to cater for a wide range of customers' small-batch demands. The increasing availability of compostable packaging means premade stand-up pouches are even good news for the environment, as well as packaging companies who are now able to access them at affordable prices.
How Shemesh can boost your stand-up pouch packaging capabilities
Shemesh Automation, a packaging machinery powerhouse with over 30 years' experience delivering engineering excellence, has a family of complete monoblock packaging machines for products in stand-up pouches.
Citadel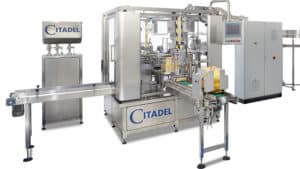 Citadel is our COMPLETE pouch feed, roll stuffing, liquid filling, pouch sealing monoblock packer for round wipes.
The tried and tested all-in-one monoblock design of the Citadel encompasses all aspects of round wipes downstream packaging with full built-in QC!
The Citadel has a throughput of up to 30ppm (refill size)/ 12-15 (jumbo size) and is the only machine of its kind available on the market today — far exceeding the sophistication of existing market solutions.
In addition, with a monoblock footprint of only 1.8m x 1.8m, the Citadel can operate in very small spaces. For more information on our full range of Wet Wipes packaging machinery, including solutions for both rigid and flexible nonwovens packaging, visit our dedicate site, www.sawetwipes.com
Encore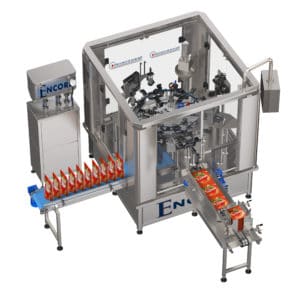 Encore is the world's first complete monoblock pouch filling machine for food, beverages, cosmetics, or pharmaceutical products in flexible packs.
With operating speeds of up to 60ppm, the Encore Pouch Filling Machine is a robust, fully automatic, servo driven vertical index machine. It is specifically designed as a single block for the downstream packaging of liquid, solid food, tablets or powder in flexible bags.
Representing state-of-the-art packaging technology the Encore includes fully filling, portioning and sealing and functions as a hands-free turnkey unit. SA's unique Encore monoblock has a filling range of 50ml to 5L and operates at speeds of up to 30ppm/60ppm (regular size), 12-15 (jumbo size).
For more information on Encore, and our complete range of advanced packaging machinery, visit www.shemeshautomation.com or contact sa@shemeshautomation.com