Automatic Solid Filling Machines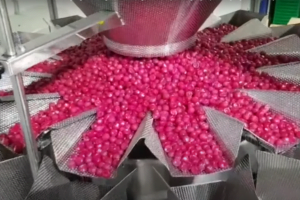 Shemesh has engineered a range of solid filling machines to accurately deposit a wide range of solid foods – from gummies to nuts and pulses – into all common container shapes.
We utilize a variety of technologies to ensure that the machine we build for you is perfect for filling your specific solid product, whether it is:
Gummies or jellies
Powders
Grains or pulses
Nuts or chips
Dried foods (pasta, rice etc)
Many more
Our solid filling machine range is led by:
Solifill – A continuous rotary multi-head weigher based filling machine
The Solifill filling machine was designed for gummies and jellies, which are renowned in the food, supplements, and nutraceuticals sectors for being one of the most hard to handle products.
Operating at speeds of up to 150ppm Solifill is engineered with a number of unique processes and features that ensure gummies and jellies are separated and accurately deposited into containers with wide or narrow openings, solving a problem that has plagued gummies manufacturers the world over – inaccurate filling due to product 'clumping'.