Tackling climate change will impact the packaging industry to a high degree in the next 12 months, says Shemesh Automation's capital equipment expert and Director, Mike Lynch. Perfectly qualified to comment, with over 30 years of machinery and equipment experience, Mike is confident that there is the expertise and flexible packaging solutions to help companies tackle the issues that are likely to dominate the next 12 months; supply chain disruption, sustainability, food safety, speed to market and energy costs.
Mike explains: "Sustainability will again be at the forefront of people's minds. Everyone in the entire packaging supply chain will be challenged to provide ecologically friendlier solutions and food safety and speed to market will also feature highly. Today's consumers are calling the shots. They are well informed and have access to data that influences their spending decisions."
Shemesh also sees innovations in the pipeline for ensuring that packaging machinery can adapt quickly and flawlessly to all the diverse sustainable packaging materials that are now available, including recyclable, refillable, biodegradable and compostable materials. Meanwhile growth in the e-commerce sector will continue to stimulate the packaging market leading to increased demand for automation and the increasing reliance on robotics in packaging lines.
Shemesh has been an early mover in this regard, utilising the latest robotic technology to make a number of its machines faster, more efficient and more adaptable.
For example, Shemesh's Attilus capping machine which can be incorporated in a single line solution of automated equipment that can multi-task all aspects of food packaging. A robotic sorter and an advanced vision system enable the Attilus to sort and orientate caps from the most complex screw tops to trigger and pump caps.
One cap size doesn't fit all but one machine is far better than two (or more!) for accurately sorting the variety of cap types available. It is not enough to develop better packaging alone; products and packs must come together as part of the sustainability path. Businesses need the most efficient process available to help reduce energy consumption, while meeting consumer demands and the ever-present food safety regulations.
Food safety is paramount and packaging solutions suppliers will need to respond with machinery that combines minimisation of waste and product breakage with consumer convenience at low costs. Mike adds: "Like Shemesh they will need to be connected to the market via skilled teams of R&D engineers who can design and build innovative and highly effective packaging systems. We look at technologies every day to find the biggest benefits in efficiency, energy consumption and overall costs."
The biggest challenges for businesses looking to modernise their factory processes to handle these transformational changes will be integrating automation that is flexible and can adapt to multiple platforms quickly and cost effectively. However, there are already cutting-edge single-line machines on the market that can help reduce the carbon footprint while enhancing production efficiencies.
Shemesh appears to be ahead of the curve here too through the development of its space-saving complete monoblock solutions for products in flexible packaging.
Their CITADEL series offers manufacturers of wet wipes in refill or jumbo-sized flexible packs the ability to fulfil all aspects of the downstream packaging process from bag feed, rolls stuffing, and liquid filling to bag sealing and QC with one compact, economical unit.
Similarly, Shemesh's Encore monoblock offers the same benefits to manufacturers of flexible pack products from soups and sauces to creams and soaps.
Shemesh is a global manufacturer of high-end packaging solutions for multiple sectors including food, cosmetics, nonwovens, liquid filling, pharmaceutical and chemicals. It has recently enjoyed rapid and sustained growth across the world. So, any wild predictions for the remainder of the decade? Mike concludes single stream recycling of plastics, refill packaging to dominate sectors of the market and – tongue very firmly planted in cheek – Bournemouth to win the English Football Premier League!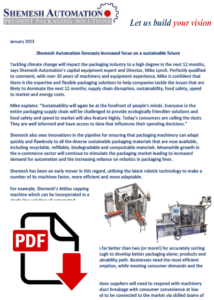 ---
For more info on our full range of machines visit: www.shemeshautomation.com
About Shemesh Automation:
With over 30 years in the industry, Shemesh Automation is a global leader in the high-end packaging and assembly machinery and industrial automation appliances manufacturing arena. The family-owned business supports almost 2,000 assets in over 30 countries around the world. Its nonwovens arm, Shemesh Automation Wet Wipes (www.sawetwipes.com) is a global pioneer in nonwovens downstream packaging equipment with cutting-edge technology positioned at the very forefront of the industry.
Shemesh is represented in 13 countries around the world with offices in the US, UK, France and Israel. Its London-based office coordinates global sales and marketing operations and its Israeli office managing research, development and engineering innovation. Shemesh's unique combination of UK customer-centric service with an Israeli high-tech mentality to push the technical boundaries, plus the use of tried & tested parts from German manufacturers has greatly contributed to its success. The US market is served by a 43,055 square-foot office in Green Bay, Wisconsin, home to a Demo Center, 24 Hour Service and Parts Center and a large US installed base of packaging machines.
We don't see Shemesh as a company that builds just cutting-edge machinery, we want to become your partner of choice for long and successful cooperation. "Let us build your vision" is not just our slogan, simply put, this is what we do, day in and day out!
For editorial or sales enquiries please contact:
Roni Levi
Marketing Director
Shemesh Automation
Telephone: +972.355.099.46
Email: roni.l@shemeshautomation.com
Website: shemeshautomation.com