Further enhancing a global team that is now supporting over 1400 Shemesh assets in more than 30 countries, Shemesh Automation is delighted to announce the appointment of Jean-Philippe Henriet as Sales Manager in France.
Building on the success of Shemesh's introduction to the French market – including a debut appearance at the world-famous All4Pack show in 2018 – Jean-Philippe's appointment is a response to increased demand for Shemesh's premium range of packaging machinery solutions in the region.
Jean-Philippe brings a wealth of global experience to his new role having headed up machinery sales for Gebo Cermex in Eastern Central Europe, Russia and the Middle East and Africa over the past 19 years. He now returns to his native France, where his expertise in developing growing markets will be of paramount importance as Shemesh continues to provide world-leading service to its exponentially-expanding European client base.
Jean-Philippe commented: "After my work building sales teams and developing new markets all over the world, I'm delighted to return home to France where the demand for top-of-the-line packaging solutions is increasing significantly year-on-year. Nothing excites me more than listening to customers, acting on their requests and delivering beyond expectations, which dovetails perfectly with Shemesh's 'think global, act local' ethos. The chance to represent a brand like Shemesh, known for the high quality of its machinery and customer service was an opportunity I couldn't ignore.
Shai Shemesh, Shemesh Automation's CEO commented: "Jean-Philippe's arrival marks the continuation of an exciting period for Shemesh, as we grow our global team to meet the ever-increasing
demand for our world-renowned machinery. After launching our presence in the French market with an appearance at All4Pack in 2018, we have continued to ramp-up our operations and Jean-Philippe's extensive experience in growing new markets will be invaluable to us here.
'Let us build your vision' is not just a slogan, it's what we do day-in-day-out. Jean Philppe's undoubted expertise and customer-first attitude is perfect for applying that
ethos to our growing portfolio of customers in France"
+++++ ENDS ++++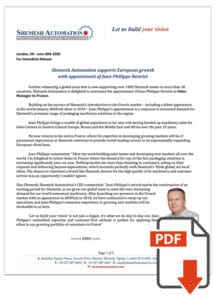 ---
For more info on the full range of our filling machines visit: www.shemeshautomation.com
About Shemesh Automation:
With over 30 years in the industry, Shemesh Automation is a global leader in the high-end packaging and assembly machinery and industrial automation appliances manufacturing arena. The family-owned business supports almost 2,000 assets in over 30 countries around the world. Its nonwovens arm, Shemesh Automation Wet Wipes (www.sawetwipes.com) is a global pioneer in nonwovens downstream packaging equipment with cutting-edge technology positioned at the very forefront of the industry.
Shemesh is represented in 13 countries around the world with offices in the US, UK, France and Israel. Its London-based office coordinates global sales and marketing operations and its Israeli office managing research, development and engineering innovation. Shemesh's unique combination of UK customer-centric service with an Israeli high-tech mentality to push the technical boundaries, plus the use of tried & tested parts from German manufacturers has greatly contributed to its success. The US market is served by a 43,055 square-foot office in Green Bay, Wisconsin, home to a Demo Center, 24 Hour Service and Parts Center and a large US installed base of packaging machines.
We don't see Shemesh as a company that builds just cutting-edge machinery, we want to become your partner of choice for long and successful cooperation. "Let us build your vision" is not just our slogan, simply put, this is what we do, day in and day out!
For editorial or sales enquiries please contact:
Roni Levi
Marketing Director
Shemesh Automation
Telephone: +972.355.099.46
Email: roni.l@shemeshautomation.com
Website: shemeshautomation.com