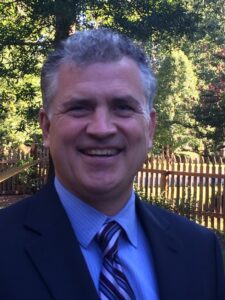 Shemesh Automation has appointed packaging machinery veteran Mike Lynch as Director for the North American Market.
In 2021, Shemesh responded to rapid and sustained growth in their US customer base with the purchase of a 43,055 square-foot flagship facility in Green Bay Wisconsin. The site is intended to serve as the new Headquarters for Shemesh USA, Inc.
Now, Shemesh has further widened its US footprint with the appointment of experienced capital equipment expert Mike Lynch, who will be based out of Maryland.
Lynch brings over 30 years of machinery and equipment experience to his new role and will be familiar to Shemesh's customers, both existing and new, through his previous roles with major industry players such as Bauer, Multivac and Elsner Engineering Works.
Customers will get an early chance to connect with Mike when Shemesh exhibits at Pack Expo International in Chicago (Booth N-6370) 23-26th October 2022.
Shemesh's President and CEO Shai Shemesh commented: "Mike's knowledge and experience within our industry in North America is tremendous, and I am delighted to welcome Mike to the team. Having collaborated with Mike on many major projects in the past I can say with complete certainty that our current and future customers will thoroughly enjoy working with Mike and will benefit hugely from Mike's knowhow and expertise.
Together with our exceptional facility in Green Bay and our expert team of field engineers based in different locations across the US, Mike's addition underlines our commitment to continue our impressive growth in the US market and to supporting our valued customer base".
Mike Lynch commented: "I look forward to expanding Shemesh's already growing business in North America. Shemesh has been busy expanding their packaging automation offerings and developing strategic alliances to broaden its portfolio of capabilities. I'm excited about the opportunity to engage with customers looking for a full spectrum of packaging solutions from single machines to full turn-key integrated systems."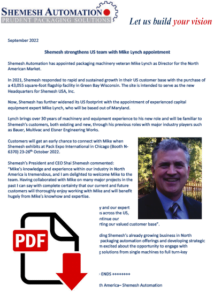 ---
For more info on our full range of machines visit: www.shemeshautomation.com
About Shemesh Automation:
With over 30 years in the industry, Shemesh Automation is a global leader in the high-end packaging and assembly machinery and industrial automation appliances manufacturing arena. The family-owned business supports almost 2,000 assets in over 30 countries around the world. Its nonwovens arm, Shemesh Automation Wet Wipes (www.sawetwipes.com) is a global pioneer in nonwovens downstream packaging equipment with cutting-edge technology positioned at the very forefront of the industry.
Shemesh is represented in 13 countries around the world with offices in the US, UK, France and Israel. Its London-based office coordinates global sales and marketing operations and its Israeli office managing research, development and engineering innovation. Shemesh's unique combination of UK customer-centric service with an Israeli high-tech mentality to push the technical boundaries, plus the use of tried & tested parts from German manufacturers has greatly contributed to its success. The US market is served by a 43,055 square-foot office in Green Bay, Wisconsin, home to a Demo Center, 24 Hour Service and Parts Center and a large US installed base of packaging machines.
We don't see Shemesh as a company that builds just cutting-edge machinery, we want to become your partner of choice for long and successful cooperation. "Let us build your vision" is not just our slogan, simply put, this is what we do, day in and day out!
For editorial or sales enquiries please contact:
Roni Levi
Marketing Director
Shemesh Automation
Telephone: +972.355.099.46
Email: roni.l@shemeshautomation.com
Website: shemeshautomation.com