Keeping up with the latest cosmetics packaging trends can cause major headaches for manufacturers with outdated packaging machinery. Notwithstanding the inherent challenges with packaging product ranges with such varying viscosities, manufacturers also need to cater for ever-changing bottle shapes, sizes and cap-types that keep their products looking fresh and on-trend every season.
Let's take a closer look at some of the main packaging -based issues facing cosmetics manufacturers today, and see how the latest machinery solutions can tackle them head on.
How do you fill cosmetics products of varying viscosities whilst keeping machinery costs low?
In the worst cases, adding a new cosmetic product to your range with vastly different viscosity (thickness) to your current products can necessitate the purchase of an entirely new filling machine. Opting for robust positive displacement filling methodologies such as servo-driven piston fillers or mechanical cam driven rotary piston fillers can really open up a broad spectrum of possibilities when it comes to adding new products to your range.
For example, the STRATUM Servo Driven Piston Filling machine can accurately fill low viscosity products like shampoo whilst also packing the punch needed to fill thicker substances like creams and pastes – all controllable via a smart HMI screen- meaning you wouldn't have to purchase a second machine in order to add a new product to your line!
How do you deal with complex bottle shapes?
In the cosmetics industry, you can't over-estimate the importance of product aesthetics. However, standing out from the crowd with complex bottle shapes that leap off the shelves, can come at a cost. Many cosmetics packaging machines could be rendered useless by the introduction of new products that are shaped in such a way that, for example, prevents them staying in an upright position while being transported on the machine's conveyor.
This problem can be solved by opting for machinery complete with puck loaders and unloaders – allowing shaped bottles to travel along a conveyor whilst being held in the correct position by pucks.
For complete end-to-end automation, the market's most advanced front-of-line machinery utilises the latest robotic technology to unscramble different bottle shapes and sizes with one smart unit. Not only does the addition of robotics-powered unscramblers at the front of any cosmetics line speed up production and reduce the need for manual labour, but it also results in less downtime and fewer change part requirements over time – compounding savings for manufacturers willing to take the plunge on a complete A-Z line.
Can a capping machine handle multiple cap types common to cosmetics products?
There are multiple cap types common to the cosmetics industry including screw caps, pump caps and spray pumps. Some capping machines will be limited to a single cap type, while others will allow for multiple cap types when used in conjunction with change parts.  With the latter, downtime due to complex changeovers and expensive change parts can really make a dent in your bottom line.
With the very latest capping machines though, once again robotic technology and vision systems can give you a competitive advantage by handling much of the changeover process at the touch of a button, reducing the number of change parts needed over time, and enhancing cap feeding, orientation and fixing accuracy when capping multiple cap types.
It's hard to find machinery manufacturers offering all of the machines required for complete A-Z automation of a cosmetics line.
The advantages of sourcing all of your cosmetics packaging machinery from one supplier are clear. When dealing with one supplier you can ensure each machine in your line is built to cater for your specific product, and footprint requirements. Installation and integration requires downtime – relying on multiple suppliers to coordinate this on a schedule that suits you, can be almost impossible.
Also, all machinery needs a tune-up every now and then – maintenance, diagnostics and parts replacement can be dramatically sped up when dealing with one supplier rather than a host of competing manufacturers. Reduced downtime and economies of scale are the name of the game here, and opting for one single manufacturer to provide your entire line is one way to achieve it.
With all of that said, it's time to meet the TKS-C60 from Shemesh. A complete A-Z turnkey packaging line for cosmetics.
The new line from Shemesh has been built to handle the entire process – feeding, filling, sealing, capping, labelling, case packing and palletising cosmetics products of all shapes and sizes.
The TKS-C60 is engineered to handle a broad range of cosmetics products from creams and foundations to fragrances and nail polish at an impressive rate of 60 bottles per minute. The line consists of three ABB Delta Robots – one on the product unscrambling station, one for accurate multi-capping and one for case packing – as well as an integrated advanced vision system. All manufactured by one experienced team, to maximize productivity and minimize downtime.
This smart technology is manufactured from high grade, robust stainless steel. Two lanes as applicable also offer greater flexibility, with the capability to pack different products on the same line simply by setting up the requisite recipes via a smart HMI screen. The linear rather than rotary feed means there are fewer parts for faster and easier changeovers and cleaning. It can identify cap types of any dimension – screw caps, snap-on caps, pump/spray caps and more. For shaped products, the line can also include pucks loaders and unloaders as well – offering maximum flexibility.
ETNA, the line's automatic bottle unscrambler, uses an ABB/FANUC spider robot to provide precise bottle orientation, covering virtually all bottle types common to the cosmetic sector. The robotic elements ensure no change parts are required (except in some cases for the robot grippers) when unscrambling multiple different bottle shapes. This results in much less downtime and a huge reduction in format parts costs over time.
Robots ensure the bottles for filling and caps are facing the correct orientation – saving on labour or if using traditional mechanical unscramblers – expensive and changeover cumbersome multiple format parts. After capping, the line provides customizable labelling function, ensuring the cosmetics products are looking their absolute best! Robotic case form fill and seal with an  efficient transition to the palletizer help to make this seamless system second to none in the manufacture and packaging of cosmetics.
Thanks to the extra control and force provided by its double-servo driven pistons, the STRATUM provides the versatile liquid filling solution at the heart of this extraordinary line. Capable of accurately filling a wide range of viscosities (from 1 to 500,000 Centipoise) to within +/- 0.25% of filling volume, STRATUM is the perfect filler for cosmetics manufacturers with a diverse product range.
ATTILUS, the Continuous Motion Cosmetics Capping Machine utilizes a robotic sorter based on Delta Robot and an advanced vision system to enable higher speeds, enhanced accuracy and unprecedented flexibility in automatic screw, pump and spray cap sorting.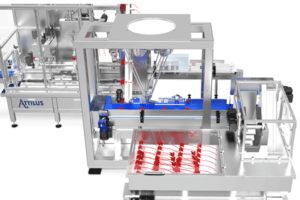 Also, the ATTILUS utilizes a servo-controlled pick & place Cartesian Robotic Arm (gantry two axis robot) to track and deliver the caps to the bottles while in motion, ensuring smoother and faster production.
The ATTILUS includes bottle tracking and a synchronized gantry robot based on encoders and servos. Its integrated Siemens/AB PLC & HMI puts the operator in complete control, allowing simple programming – changing formats and course of movement at the touch of a button. The Robotic enhancement of the ATTILUS also ensures changeover downtime is kept to a minimum (under 20 minutes).
Adapted to work with corrosive products as well as flammable liquids – such as nail polish remover- the TKS-C60 supports global manufacturing regulations, is Industry 4.0 ready and offers ATEX protection standards in explosive atmospheres.
Contact us
today for a consultation on how Shemesh's range of Cosmetics packaging machinery can enhance your production and boost your bottom line.