Shemesh Automation Wet Wipes (SAW), a global leader in nonwovens downstream packaging, announces that its Citadel monoblock packer for round wipes in flexible packs has been selected as a finalist in this year's I-Novo Technology Awards alongside KRONES and other such big industry names.
These prestigious awards recognize products that demonstrate novel use of technology. SAW's CITADEL monoblock is now amongst the final 10 products remaining in contention for the Technology award, which will be voted upon initially by an external jury of industry experts before a final public vote in November.
What makes the CITADEL so special?
The Citadel is the World's first complete monoblock solution for round wipes packaging in ready-made bags. Bags are stacked in a magazine and fed into a rotary index table where their zipper is automatically opened.
Then, the bags are automatically stuffed with round nonwoven rolls, liquid-filled; QC'd, sealed and discharged. Representing the state of the art packaging technology the Citadel includes fully automatic feeding for both the rolls and the bags and functions as a hands-free turnkey unit.
Benefiting from top out-of-the-box Israeli engineering, the Citadel offers a throughput of up to 30 products per minute and is made to service the jumbo rolls (J Series), standard wet wipes in flexible packs and refill markets (R Series).
Shai Shemesh, SAW's managing director commented: "Our Citadel is a significant breakthrough in the world of wet wipes packaging because for the first time manufacturers of round wipes in ready-made bags have a smart one-stop-shop solution specifically catering for their market segment. Customers only need to look at the success of our Xpander monoblock for wipes in canisters, which has already been a global big-seller, to see the benefits of investing in a SAW monoblock system. We are delighted the Citadel is getting the industry recognition it deserves and look forward to hearing the views of the judges of the prestigious I-Novo Awards".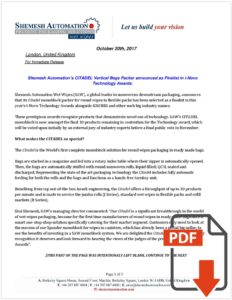 ---
For more info on the full range of our filling machines visit: www.shemeshautomation.com
About Shemesh Automation:
With over 30 years in the industry, Shemesh Automation is a global leader in the high-end packaging and assembly machinery and industrial automation appliances manufacturing arena. The family-owned business supports almost 2,000 assets in over 30 countries around the world. Its nonwovens arm, Shemesh Automation Wet Wipes (www.sawetwipes.com) is a global pioneer in nonwovens downstream packaging equipment with cutting-edge technology positioned at the very forefront of the industry.
Shemesh is represented in 13 countries around the world with offices in the US, UK, France and Israel. Its London-based office coordinates global sales and marketing operations and its Israeli office managing research, development and engineering innovation. Shemesh's unique combination of UK customer-centric service with an Israeli high-tech mentality to push the technical boundaries, plus the use of tried & tested parts from German manufacturers has greatly contributed to its success. The US market is served by a 43,055 square-foot office in Green Bay, Wisconsin, home to a Demo Center, 24 Hour Service and Parts Center and a large US installed base of packaging machines.
We don't see Shemesh as a company that builds just cutting-edge machinery, we want to become your partner of choice for long and successful cooperation. "Let us build your vision" is not just our slogan, simply put, this is what we do, day in and day out!
For editorial or sales enquiries please contact:
Roni Levi
Marketing Director
Shemesh Automation
Telephone: +972.355.099.46
Email: roni.l@shemeshautomation.com
Website: shemeshautomation.com