We are delighted to announce that our TKS-G60 gummies packaging line is a finalist in the PROCESS & PACKAGING category of the prestigious Food Processing Awards!
We humbly ask for your vote to help us win the award, for a line that we truly believe would be worthy of such incredible recognition, by emailing the following text to Suzanne.gill@imlgroup.co.uk before the September 16th deadline.
Email Subject Line: AWARDS
Hi Suzanne,
I would like to register my vote for the Food Processing Awards:
Category: PROCESS & PACKAGING
Winner:  SHEMESH AUTOMATION
Here's why we believe the TKS-G60 Gummies Packaging Line deserves your vote:
Problem Solving: This dedicated 60ppm uninterrupted bottling line for gummies and jellies solves the age-old problems caused by coagulation of sticky products.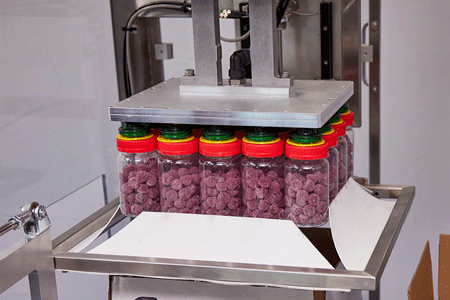 Flexible: The line is headed up by an unscrambler that can be either mechanical where bottle choice is limited or robotic where multiple shapes and unlimited types of bottle are involved.
Complete: The line excels at all phases of the gumimes/jellies packaging process. From bottle unscrambling to the continuous rotary multi-head weigher based filling system, an induction-sealing process that improves shelf-life, ultra-accurate capping, labelling, case packing and palletizing!
Quality Controlled: There are QC points along the entirety of the line to ensure pinpoint accuracy and top quality all the way through.
You can watch a video of the TKS-G60 in action by clicking here