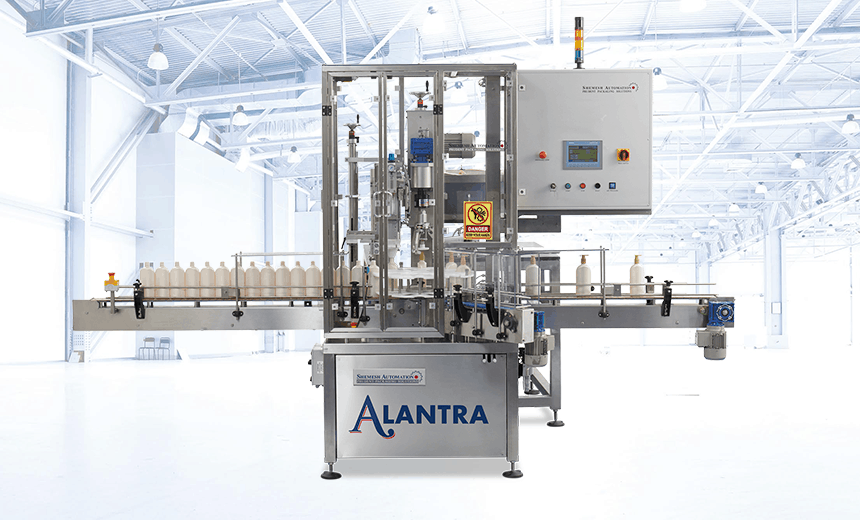 ALANTRA Automatic Air Pump And Trigger Nozzle Capper
Cap-off your in-line system with the ultra-accurate ALANTRA Automatic Air Pump and Trigger Nozzle Capper Machine!
From cleaning products with trigger nozzles to cosmetics products with air pumps, Shemesh Automation's ALANTRA is designed to provide accurate, efficient torque-measured capping for a wide variety of industries.
Specifically designed to provide super-accurate leak-free capping, the ALANTRA is available in both semi-automatic and fully automatic versions for maximum efficiency and versatility. ALANTRA is applicable to containers common to the chemical & cosmetics, pharmaceuticals & food and beverage industries.
The ALANTRA Automatic Air Pump and Trigger Nozzle Capper Machine has optional built-in capping quality control and defects rejection system guarantees a less than 1% defect rate – reducing waste and downtime. ALANTRA's tool-free design offers a sub 20-minute changeover and reduced downtime, further enhancing the productivity of your line regardless of how many different product types run through it.
Like all machines in the Shemesh range, the ALANTRA is INDUSTRY 4.0 READY. It includes as standard a SECOMA SiteManager 1139 modem, integrated into the machine HMI to enable SMART remote support, live stats and performance analysis as well as manufacturer enhancement feedback.
Automatic Trigger Nozzle Capper Machine Benefits
Trigger and/or spray pump automatic feeding, orientation & capping
Semi-automatic (accommodates up to 2 operators) or fully-automatic (for hands-free operation) models available
Throughput: 60 containers/min or up to 120 containers/min (double station)
Sanitary design
Handles wide variety of containers, bottles and shapes (eg plastic, glass, round, square, cylindrical, conical, etc)
Pick & Place method for accurate capping
Digital, servo-driven adjustable torque for flexibility and precision
Universal proprietary gripper fits both spray and trigger caps. No tools, no downtime required
Optimised footprint
Built-in capping quality control to examine defects (if there is no cap or if the cap is not closed properly) and defects rejection system
Accurate – under 1% defect rate guaranteed – delivers saving through reduced waste and downtime
Tool-free design offers sub 10-minute changeover (!) and reduced downtime
Monoblock style version or linear line version available for hands-free operation and footprint reduction