Shemesh Automation, a specialist with over 30 years' experience manufacturing first class solutions in the packaging sector, will be publicizing its most complete range yet of wet wipes packaging lines at the World of Wipes® International Conference (WOW) 2023. The event, one of the premier shows in the nonwovens industry, takes place at the Atlanta Marriott Marquis, Atlanta Georgia from July 17-20.
Shemesh will be presenting numerous, state-of-the-art turnkey packaging solutions, including the first of its kind BuckIt-TKS25 line and, being shown for the first time, the brand new multi-purpose bagger Citadel A. Shemesh Automation is also one of the event's key sponsors. With more than 400 wipes professionals at the event, the dissemination of information from wipes leaders will inspire the actions taken on important industry issues. The $11 billion industry depends on key market research presented at WOW, so the event is really not to be missed.
BuckIt-TKS25 line – the first of its kind in the world
The Shemesh BuckIt-TKS25 line is a complete turnkey packaging line for wet wipes in buckets. It offers fully automated feeding for both buckets and bucket lids with separate continuous denesting machines which feature a servo-driven interchangeable vertical carousel cartridge for continuous denesting. This results in ultra-low downtime.
Two unique design features in particular make the BuckIt-TKS25 line stand out:
A fully integrated Jumbo Wipes stuffer machine capable of handling multiple roll sizes from a diameter of 60-240mm to a height of 100-260mm.
The Carolus Bucket Labeller – a completely unique Shemesh Automation innovation. It includes a proprietary precision orientation system which ensures that the label is placed in exactly the same position on each and every bucket. The bucket handles are automatically lifted during the labelling process to ensure the perfect label positioning every time.
These features and others combined ensure world-class packaging solutions that result in a highly accurate, sustainable low-maintenance line that can produce up to 25 packed wet wipes buckets per minute.
To read all about the rest of the line go here.
Citadel A – see it first!
The Citadel Series, built on decades of industry experience supporting the wipes manufacturing sector and harnessing operating speeds of up 30ppm, is a robust, fully automatic, servo driven all-in-one Monoblock packer, tailor made to service the standard or jumbo wet wipes in flexible packs and refill markets. The Citadel series offers ultra-low downtime and enhanced productivity.
Previously the series came in two models, the 'R' and the 'J', each with a specific function. Now Shemesh Automations has developed a brand-new model – the Citadel A. In a first for the series, the model can fulfil both jumbo bags (Citadel J) and consumer refill bags (Citadel R) in one packaging solution, unlocking major savings for flexible pack wipes manufacturers.
Shemesh Automation's innovative packaging solutions are focused heavily on the requirement for nonwoven hygienic product packaging solutions to provide maximum accuracy at maximum speeds whilst taking up minimal space. From standard components to high-performance packaging lines producing jumbo rolls or standard wet wipes in flexible packs and refills, Shemesh understands that in this highly competitive market, providing constant improvement and innovation gives customers the edge they need.
Turnkey Solutions
Last but far from least, rounding out an exciting event for the company, Shemesh will also be promoting a range of complete turnkey solutions for wipes in canisters and buckets. These lines offer installation, service, parts, delivery and training, all under one umbrella. All these solutions are offered with optional explosion and corrosion proofing. For further information, please see Shemesh's catalogue here.
Shai Shemesh, President of Shemesh Automation, explained: "Shemesh doesn't do generic machines. Long-term thinking and reliability are built into everything we do – especially our all-in-one space-saving packaging lines. We have a long and proven history in the nonwovens sector and we add real value to our clients. We constantly seek constructive feedback to stay ahead of market demand, ensuring mechanical and technological primacy and providing our clients with a real competitive edge. WOW is an industry leading event with so many of the industry's leading lights in attendance and Shemesh is proud to be a key sponsor. We're looking forward to catching up with old friends and new!"
For more information on the full range of machines and Shemesh Automation wet wipes solutions, visit www.sawetwipes.com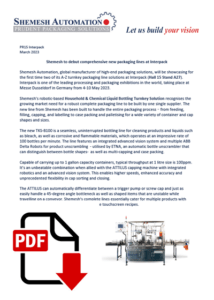 ---
For more info on our full range of machines visit: www.shemeshautomation.com
About Shemesh Automation:
With over 30 years in the industry, Shemesh Automation is a global leader in the high-end packaging and assembly machinery and industrial automation appliances manufacturing arena. The private equity backed business supports almost 2,000 assets in over 30 countries around the world. Its nonwovens arm, Shemesh Automation Wet Wipes (www.sawetwipes.com) is a global pioneer in nonwovens downstream packaging equipment with cutting-edge technology positioned at the very forefront of the industry.
Shemesh is represented in 13 countries around the world with offices in the US, UK, France and Israel. Its London-based office coordinates global sales and marketing operations and its Israeli office managing research, development and engineering innovation. Shemesh's unique combination of UK customer-centric service with an Israeli high-tech mentality to push the technical boundaries, plus the use of tried & tested parts from German manufacturers has greatly contributed to its success. The US market is served by a 43,055 square-foot office in Green Bay, Wisconsin, home to a Demo Center, 24 Hour Service and Parts Center and a large US installed base of packaging machines.
We don't see Shemesh as a company that builds just cutting-edge machinery, we want to become your partner of choice for long and successful cooperation. "Let us build your vision" is not just our slogan, simply put, this is what we do, day in and day out!
For editorial or sales enquiries please contact:
Roni Levi
Marketing Director
Shemesh Automation
Telephone: +972.355.099.46
Email: roni.l@shemeshautomation.com
Website: shemeshautomation.com